There's been a lot of talk about happiness these days, mostly because there are a lot of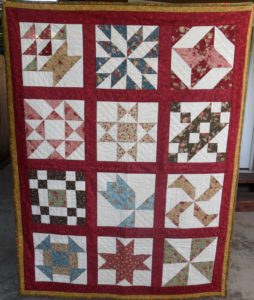 unhappy people walking around. Seems everybody is complaining about something and a lot of people are downhearted. Despite having lost my job last year and spending months finding my way back into the work force, which I did the end of February, I should have been unhappy, but I wasn't. Part of what got me through my bump in the road was keeping a positive attitude and quilting. It's my sanity check because it makes me incredibly happy. I got to wondering, what about other quilters; do they feel the same way? Is quilting their bliss too, is it their source of happiness? So I asked several quilters and here's what I learned, key lessons that can be applied to anyone in any situation.
Betsy M. of Ramona, California says that "Each time I look for a quilting pattern to create, the excitement starts right away.  I love looking at the quilting shapes and colors and imagining what the person I'm going to make this quilt for will feel about my choices. It continues as I create the colors I'd like to implement in my creation. I love touching the fabric and auditioning the color combinations. This is when I enter my own world where nothing else matters, I'm the creator!"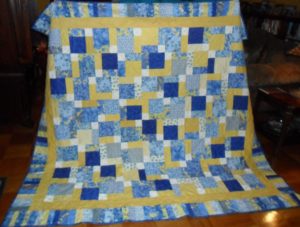 Betsy likes every aspect of it, even cutting out fabrics, because to her it gives her a sense of a job well done. Her spirit soars as she "lovingly sorts and stacks the precious pieces of different colored fabrics that are now ironed and crisp. I admire my work, it's stimulating, like looking at a bowl of fresh fruit that has multiple colors and textures. As I stitch the pieces together, the quiet hum of the sewing machine is melodic and soothing." As she quilts, she is at "one" with the fabric, the machine and her objective — to imbue love and security into every stitch.
"Each quilt contains a piece of myself that I joyfully pass on with the hopes that its new owner will "feel" what was made for them. I love sewing for friends and family as well as making quilts for babies in the NICU at one of the local hospitals. I see my woven intentions every time I look at one of my quilts. Others may not see those intentions but I hope they can feel them. The best part about quilting is that I complete each quilt, then step back and admire my work. I did this! I took a piece of cloth and made it into something beautiful."
Gillian Moss of San Diego told me "Quilting, sewing, creating is a huge part of who I am, I can't imagine a day without doing or at least thinking about it." She's involved in various quilting and sewing groups and guilds, plus she runs the critique group at Visions Art Museum and occasionally teaches. Gillian says that each of them, in their different ways, feeds her soul. But it wasn't a quilt that recently made her spirits soar.
Her daughter, who she says was never much of a 'clothes horse' type of girl, paid her a visit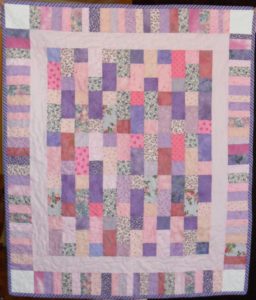 and entered Gillian's studio with a very old shirt in her hand. "It's finally done" her daughter said. Gillian immediately recognized the beloved shirt with a seahorses pattern. Her daughter had worn it for many years and now it had two tears and was on its way to the trash.
"Memories of a rare mom and daughter shopping trip made me say ' let me try to mend it'," Gillian recalls. "Is the shirt salvageable? Is it worth my time and effort?" Gillian decided that it was. "As I sit and sew the fabric back together, working out how to give this shirt with all its memories a new lease of life, I am happy. I think of my daughter, much changed since the day I bought her the shirt. The fact that I can mend this one small thing in her life — that makes me really happy."
Lindy Chrivia, El Cajon, California got talked into taking a beginning quilt class by her sister. She remembers thinking that only old ladies quilted; at age 55 she didn't think of herself as old yet. She was hooked from the first class. Over the years she has made traditional pieced quilts for family, graduating to hand-appliqué. In 2015 she won two impressive prizes at the San Diego County Fair, a best in show and another quilt won second prize. Lindy recalls it was "a highlight that reduced me to tears!"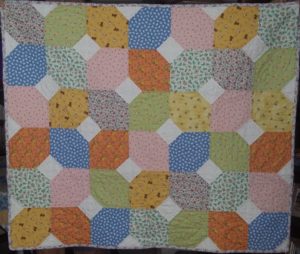 At age 65 Lindy received news that no one ever wants to hear; she was diagnosed with stage four cancer. She says that years of chemotherapy have taken their toll on her.  She has very little energy, saving whatever she has for making quilts. Cancer doesn't stand a chance with Lindy; she has better things to do.
"I happily sew for hours; the quilt making gives me peace and the pain and nausea seem to disappear." It must be incredibly therapeutic for her. Lindy's doctor originally gave her a prognosis of living 18 months, at most. Lindy has more than outlived that dire prediction. She says her doctor calls it a miracle, but Lindy sees it differently. "It seems part of the miracle is making quilts."
VCB, who asked to stay anonymous, was divorced and suffering from an ailment her doctors could not diagnose. To put it mildly, she was not in good spirits. One day she walked into a quilt shop at a mall, bought a magazine on Miniature Quilts and some fabrics to give it a try. At home she cut out the tiny pieces and assembled the little quilt by hand. She was pretty pleased with herself, adding that it greatly improved her outlook. Years later, after overcoming cancer she went back to work, taking a position that proved to be one of the most atrocious jobs she's ever had. Day after day VCB would come home and cry. She was just plain miserable and realized it was no way to live; she had to do something to counter all the negativity at work. She knew how much joy she got from making her mini quilts and decided to join a quilting guild, a wise decision that has helped maintain her sanity. Besides improving her state of mind she's now making big quilts!
Darlene Piche of San Diego started quilting 30 years ago.  She still remembers the delight she felt putting together different prints for her very first quilt. She says, "that thrill has never left me.  Putting prints, colors, and textures together is a creative expression.  It is my go-to happy place.  When I am creating a quilt, I'm able to forget about the responsibilities of my normal life.  Yes, I'll admit, it is an addiction. "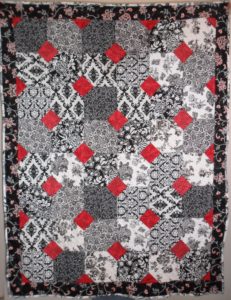 Darlene adds that quilting has been the foundation of many meaningful friendships with people who share her passion.  "With my quilting friends, I am always learning new things," she says.  "It's a wise way to age and still stay young at heart. I cannot imagine my life without quilting. Any day I have a needle and thread in my hand is a great day!"
So my friends, what makes you happy? For me it's getting lost in the creative endeavor of making a quilt. I love visualizing the initial style concept, choosing the colors, the patterns of the fabric, the style of quilting stitches. The whole thing—keeps me engrossed in the process and relieves my mind of the travails of everyday life.
Everyone should find at least one thing that will alleviate stress they can rely upon for solace. And as a bonus, perhaps even give additional meaning to their life.