This cookbook was first published in 1987 by Northpoint Press as The Art of Accompaniment under my previous name – Jeffree Sapp Brooks; it was later republished as Spice It Up. It's a book about condiments, from sauces to jams to pickles to everything in between. I developed the recipes primarily from what was growing in my garden and orchard. What I lacked, which wasn't much, I bought at the local Farmer's market. I accompanied each chapter with a little story pertaining to the topic. To this day I reference it for many beloved recipes. It's a good fit for the goodness principle because I am of the firm belief that food properly prepared is the ultimate gift of goodness, each and every delicious bite.
Spice It Up!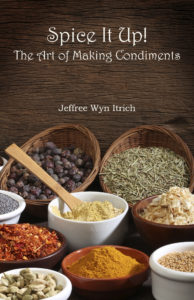 The task of creating flavorful and diverse meals on a busy schedule is made easy with Spice It Up, a collection of over 170 innovative, yet uncomplicated recipes for condiments, ranging from pickles and chutneys to salad dressings and sauces. Even the simplest of meals can be made memorable with the addition of a fragrant herb pesto or a well-balanced marinade. For those who have ever wanted to make their own ketchup, mustard, marmalade, fruit butters, salsa, pickles, spice rubs or other condiments, mouthwatering recipes await. The ease of the author's common sense methods will entice even the most harried of cooks to prepare a variety of recipes for gifts as well as home use.
Recipes such as Cranberry Vinegar, Smoked Salmon and Baby Dill Butter with Capers, and Tarragon Asparagus Pickles combine a creative use of ingredients with time-honored methods. Each recipe is accompanied by a suggestion for serving such as Creme Peche over fresh raspberries or Cilantro Lime Dressing over a salad of mixed greens, avocado, jicama, and oranges.
Also included are "Notes to the Cook" with detailed instructions, an invaluably clear step-by-step guide for those who want to learn to can, and two comprehensive indexes.
About the author:
Jeffree Wyn Itrich was born in San Diego, where she developed an early love of food from her mother's dill pickles and blue ribbon-winning strawberry preserves. Jeffree was in the kitchen at her mother's elbow as soon as she could walk. By the age of 12 she was the family salad maker, tossing her own salads and mixing her own dressings. The following year she learned to bake bread and from then on figured she would never starve. Married, she lives in San Diego with her husband, Earl, and two felines known as 'the girls'.
For more information, click

here

.