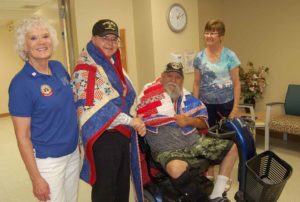 Sometimes it's easy to become complacent whether it be in your own community or beyond. Many people question if anything they do can truly make a difference and often, assuming that they can't, don't even try. If you find yourself falling into this rut, take a look at what two women are doing to bring joy to veterans and active service members.
Bonnie Aker and Kathi Henderson of Albuquerque, New Mexico are quilters with big hearts, huge hearts actually. They don't just make quilts; they make quilts with a purpose. Since 2011 they have made 45 Quilts of Valor, 25 of which have been donated to veterans on dialysis at the VA Hospital in Albuquerque.
What is a Quilt of Valor? It's an organization full of volunteers who make quilts for veterans and service members touched by war. As of this writing QOV volunteers have made and donated 151,768 quilts. Just to give you an idea of what this entails, most quilts without a lot of complicated design take 25-45 hours to complete (some longer, some shorter). Averaging 35 hours per quilt that comes out to over 5.3 million hours! Now that's a lot of heart. You must be wondering how all these people came together to make these quilts for our deserving military.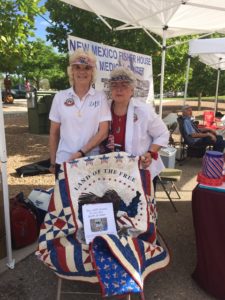 To give you a little background, the Quilts of Valor Foundation began in 2003 while founder Catherine Roberts' son Nat was deployed in Iraq. She had a dream that her son was battling war demons and in the next scene he was wrapped in a quilt, his demons at bay. She knew what she had to do and QOV was born. The organization awarded its first quilt in November 2003 to a young soldier from Minnesota who had lost his leg in Iraq. From there it grew, went viral in internet-speak.
Fast forward to 2011 when Kathi and Bonnie got involved. They learned that Sue Wolf of the QoV Foundation put out a call for quilts. That was all the impetus they needed to start sewing. Several of the quilts they made were for what Bonnie and Kathi call "woodworkers", veterans who were having a hard time with issues ranging from depression to alcoholism, vets who seemed to come "out of the woodwork" when presented with a handmade quilt.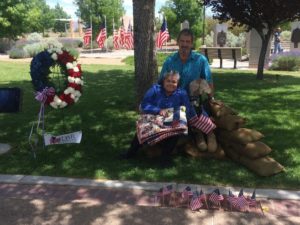 Several quilts stand out in their collective memory. When they heard about Marine SSGT Andrew Saiz, awarded a Silver Star, who was killed with six of his MARSOC Raiders 5 team members in a training helicopter crash off the coast of North Carolina in March 2015, they made one for his parents.
Another quilt took on personal significance. They designed and personalized a quilt to honor a close friend, one of Albuquerque's true heroes, John Bode, who was awarded an Air Force Cross for valor in Vietnam.  They created a "T-shirt Quilt", with pictures, logos and airplanes depicted on the shirts. John Bode is a pretty stoic guy, but even he couldn't keep his eyes from welling up when given the quilt that documented his years in Vietnam.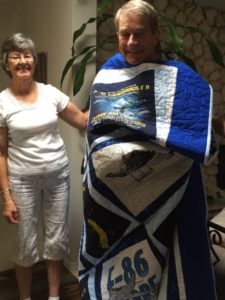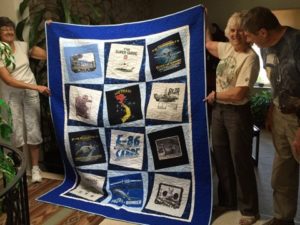 And then there is "Ted's Quilt", that will probably stand out as one of the most significant quilts the women ever made. It was conceived after a trip to Spartanburg, South Carolina in September 2016. John Bode received a call that one of his buddies from his Air Force fighter pilot training days over 60 years ago was going through a rough patch. As soon as he spoke with his old friend, Ted, he knew he had to fly east.  You see Ted had been captured and imprisoned in the notorious "Hanoi Hilton" (yeah, THAT Hanoi Hilton); he was a POW for 6-1/2 years in what can only be described as a hell hole. It was Ted's imprisonment that compelled John to volunteer to go to Vietnam. With a history and bond like that it's no wonder that John sprung into action when he heard his buddy was having a hard time. Kathi and her husband, Air Force Colonel (ret), Wally Henderson flew with John and his wife, Diane, to South Carolina.
At his home Ted showed the group around his "I-Love-Me Room", the study that his dear wife Ruth had decorated for him with all of Ted's medals, pictures of all the jets Ted had flown in his Air Force career, all of his unit patches, all of his commendations and achievement awards, and his pictures of being released as a POW. After Ruth's passing the room took on even greater meaning.
The tour of Ted's study haunted Kathi. She couldn't forget Ruth's careful placement of each item and the love that permeated that room. It was as though Ruth took up residence in the study. The moment Kathi returned from the trip to Spartanburg, she knew exactly what she needed to do and began to design a personalized quilt for Ted. It had to be a T-Shirt quilt, though different than John Bode's.  It had to have all the elements that Ruth had included in Ted's study, not an easy task. But given the wonders of the internet she was able to find a number of websites that offered military T-Shirts including all the military jets Ted had flown – the F-86 Sabre, the F-100 Super-Sabre, the F-104 Starfighter, the F-105 Thunderchief, as well as the POW/MIA logo, a map of Vietnam, and a "TAC Patch" shirt. First Kathi made fabric transfers of pictures that she had taken in South Carolina and incorporated them into the quilt design. She found two of Ted's unit patches on eBay – the 13th and the 44th – to appliqué onto the quilt as a finishing touch. She framed the design with fabric featuring grey pilot wings on a red background; the sashing (strips between the blocks) displayed a blue sky with clouds. She even found US Air Force licensed fabric for the back.  After Kathi completed the top and made it into a "quilt sandwich" with the batting and backing fabric, Bonnie machine-quilted it with a military jet pattern on her 12-foot long-arm sewing machine.  Kathi hand-bound the quilt, sewed a label onto the back and appliquéd on the two patches.
Now this is where serendipity chimes into the story. On the following Monday, out of the blue, Ted emailed John and Kathi a letter he had written to Ruth when he was a POW; it was dated Christmas 1970. All it said was, "After four years. No end in sight. Ted".  Kathi felt like the email was asking for some response, though she wasn't sure what could be said. She wrote back, "Your letter from 46 years ago touched my heart. Is this your first Christmas without your beloved Ruth?" His reply, "It's the second. She passed away Dec 16 last year. Ted".  This unexpected exchange of emails happened on December 13th.
Suddenly everything fell into place. Kathi said, "The quilt positively, absolutely, unmistakenly HAD to be delivered on Friday, December 16th, the first anniversary of Ruth's passing."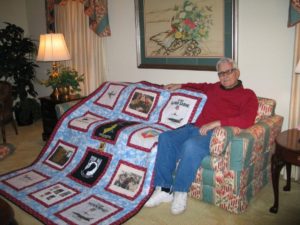 After Ted opened the package on that Friday, the delivery right on schedule, he wrote, "I am amazed, flabbergasted, dumbstruck. I could not believe what I was unfolding! What wonderful workmanship. My sister came over later and took  pictures. She wants to hang it on one of my walls. I said not until I spend the rest of the winter keeping warm with it. You are right. I can feel the warmth and love that comes with it. PS. Ruth loves it too."
Kathi replied, "Ted, I believe our visit in September, the conception of a QoV for you, the design, the timing — were all meant to be. Call it the work of angels; call it kismet; call it karma; call it quantum entanglement. It was just meant to be. I know Ruth loves it…"
Talk about making a difference. So the next time you think you can't do something to brighten the life of another, think again. The simplest act can make the greatest impact in ways you can never imagine. Kudos to Kathi and Bonnie for keeping the spirit of giving back alive.
For more information on the Quilts of Valor Foundation please visit them here.