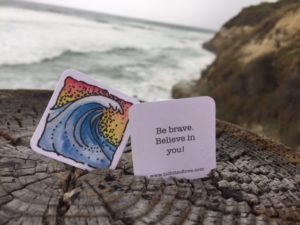 If you strolled along the Coast Highway in Encinitas, California on the pedestrian path, you'd come upon a Nantucket style fence with little pieces of whimsical artwork tucked under the wires, free for the taking. Or maybe you'd see one left behind in a café, on a park bench or a little box filled with them in a local gift shop. If you were really lucky, maybe someone handed you one featuring a colorful dragonfly, you turned it over and read "Be brave. Believe in you!" And suddenly you know that you've been handed an unexpected gift because that was exactly what you needed to hear that day. It happened to a runner named Jenna. She saw that little piece of artwork featuring a wave along the Coast Highway the very day she was going for a job interview. She needed that encouragement to be brave.
So what are these little cards and who is behind them? They're called Tidbits of Love® and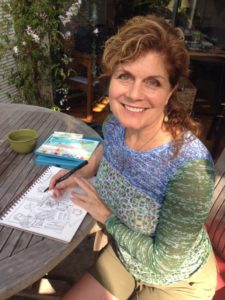 are the brainchild of local artist, Sharon Belknap. She was born with a natural ability to draw that lead to a degree in art and a career in graphic design. But as Sharon says, when the field entered the age of computers the whole tactile sense of drawing became lost to her. Not every graphic artist would notice that loss, but Sharon did.
"I felt something was really missing in my life," Sharon remembers. "Two years ago I started sketching again. It wasn't that I wanted to get back to my drawing, it was that I left something important behind." In other words, Sharon needed to get back to drawing, back to the pencil on paper, the tactile part of creating art.
She took online classes at SketchbookSkool.com and found a global community of like-minded aspiring artists. Sharon began drawing and posting her work on her Facebook page. She was provoked by one comment in particular.
"Up comes a friend from 8th grade, Heather Walsh, who even in 8th grade would tell you what you needed to do. She just had a sense of things. She'd been watching my sketches and challenged me to do seven consecutive days of positive Facebook posts with sketches. A lot of work! I thought what can I do that's small and from my imagination?"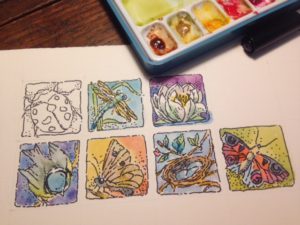 Sharon drew seven little sketches, outline only, just the pen and ink, applied watercolor paints, photographed, and posted them on Facebook. Subsequently, she remembered her community of sketchbook skool artist friends and posted to them as well. The comments came at her like a hard summer rain, relentless. She sat for hours reading and responding to everyone.
"That was my seminal moment – all this love, genuine appreciation of the style, the imagery, the colors, the idea to do little drawings," she says.
She wasn't yet developing a product; she was only fulfilling a challenge from an 8th grade classmate. Then came a comment from a woman who wrote "they exude joy".
"When I read her words something shifted in me and I realized I had a responsibility to do something with these drawings, because I've always had a personal commitment to bring more joy into the world with every interaction. I felt a responsibility to use my talent."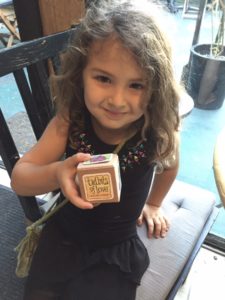 Around that time Sharon decided to take her art out of her home and into a studio space, a place that would support her creativity, apart from her graphics and home. She'd moved her design business home 28 years ago to raise her two children. It was time to fly. She rented what can only be called a tiny cottage on the Coral Tree Farm in Encinitas. It's an organic farm right in the center of town. One moment you're in a neighborhood and the next you're walking by trees laden with fruit and vegetables as bountiful as waves on the nearby Pacific Ocean. From somewhere at the back of the property you hear the bleating of a goat. And then you see Sharon's tiny studio; you step inside; Sharon's creative genius envelops you.
With a place to create her art and a vision Tidbits of Love® was born. At this point you may be wondering what exactly is a tidbit of love? They are tiny cards with a big heart. Have you ever heard the phrase that from little things come big ideas? Small as they are these tidbits are big for all the good they do. Tidbits come in small boxes of 40. The fronts feature Sharon's whimsical hand drawn sketches inspired by nature like a sun, a ladybug, a water lily or a butterfly, to mention a few.  Five of the backs are blank for writing your own messages, the rest express messages like "Smile! You're appreciated!" and "Thank you for you!" and "Enjoy the journey, it's all yours!" I especially like the one with an endearing crescent moon surrounded by stars and on the back: "A shooting star for you."
I'm not the only one mesmerized by these little wonders that Sharon calls her 'little bits of magic'. Once people receive one or see them, they get it right away and understand the powerful message that the tiny cards pass onto others. They feel supported and appreciated and the little card is theirs to keep, to cheer them on.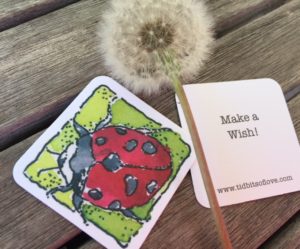 "I've sent boxfuls to places where tragedy has occurred," she says. "I sent a box to a friend in Arizona who is a principal at a school for kids who are high risk. They are now part of their weekly accountability chart. I sent several boxes to the White House and received a lovely thank you."
Sharon says that people are working them into their daily lives, and finding their own ways of using them. In the first year she went through 2,000 boxes, selling and giving them away to promote what she calls 'random acts of kindness'.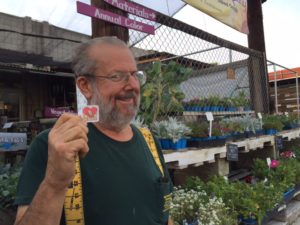 Recently Sharon asked her Facebook followers how they're using Tidbits of Love® and what kind of responses they've seen. A few of their answers tell the story:
"Making the world a better place, one tidbit at a time."

"One of the many things that resonates with me is that most recipients look at the tidbit and then press it to their heart in thanks!"

"I gave a box of tidbits to my dear Aunt following a diagnosis of terminal cancer. She said they gave her gratitude a voice. She warmly shared them with friends and caregivers. I believe they made her final days a bit warmer."

"I love sneaking tidbits of love into unexpected places like the Goodwill donation box, or in the mail box for the mailman to find, or on random windows in the parking lot. It's fun to give people an unexpected smile and warm up their hearts."

"Typical responses to receiving a tidbit? Smiles, smiles, and more smiles!"
Tidbits of Love. The biggest little thing. Visit Sharon at her website and tell her what you think.