"We have lost any doubt that there are heroes among us whether we think of those who died or survived. We have lost any doubt that God's angels are watching over us. We have lost any doubt that love is greater than hate, that courage is greater than fear."
Reverend Terry McElrath, Tokio Baptist Church
From Forever Forward a film made by Ben Ranzinger to commemorate the one year anniversary of the explosion
On April 17, 2013 at 7:51 p.m. a catastrophic disaster struck the small town of West, Texas, a farming community 20 miles north of Waco. First a fire at 7:30 pm, then a cataclysmic explosion 21 minutes later at the town's fertilizer plant shook the town and its residents to its core.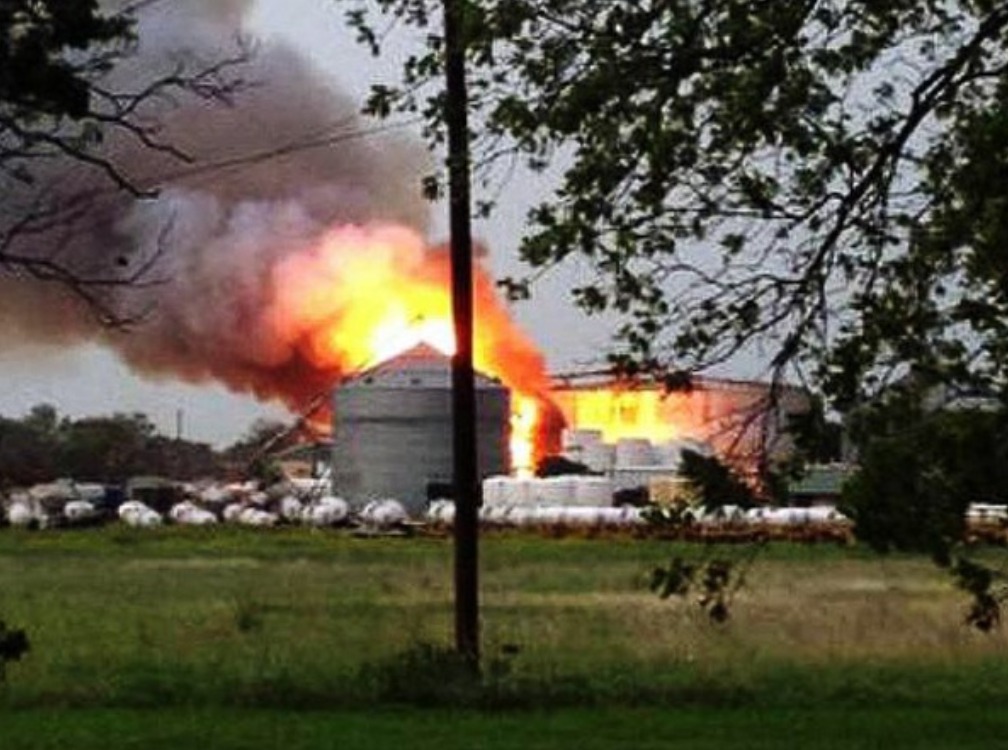 Between 28-34 tons of highly flammable ammonium nitrate exploded with the force of 10 tons of TNT, creating the equivalent of a 2.1 earthquake that was felt as far away as central Waco.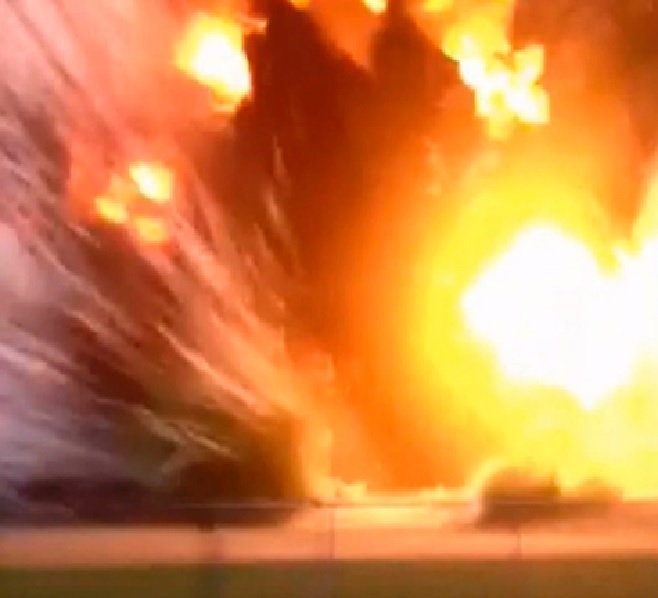 The blast was heard in the nearby cities of Hillsboro, Waxahachie, DeSoto, and as far north as Arlington near Fort Worth and Dallas. Windows blew out in Abbott, 7 miles from West. No one anticipated the explosion, especially the 12 volunteer firefighters who arrived first on the scene and died in the explosion. Nor did two residents who lived at an apartment complex across the street who lost their lives, or the residents of West Rest Haven, a nearby nursing home housing 130 residents, including one that died. Nor did the 260 people throughout the town who suffered injuries requiring emergency medical care. The blast carved out a crater 93 feet wide and 12 feet deep. In a single moment, 350 homes were damaged, 142 of them destroyed, 51 with major damage. The town suffered over $200 million in damages. For a community of only 2,700 people the explosion could have spelled the end of the town settled by Czech immigrants in the 19th century. But it didn't.
This website is all about goodness, so you may be wondering, how does an event like this fit into The Goodness Principle's purpose of spreading good news? It fits, because though no one would have wished this catastrophe on anyone, the town, its residents, the people of Texas, and countless others both nationally and internationally came to the town's aid in its darkest hour. Endless acts of kindness and silver linings emerged. Some called them blessings, others declared them miracles. No doubt they were a bit of both. People who live in West exemplified the truest definition of the word "selfless." The residents of West are a people of deep faith and even though at times they couldn't see how they would recover, it was their faith that saw them through.
As the following stories will illustrate, the townspeople set their own difficulties aside and focused on helping one another. Never mind that many had lost their homes, lost their livelihoods, lost friends and family. Texans, and especially, those living in West, dug in and saved their town. Though always a tight-knit community, the blast brought people together in unanticipated ways. Their resilience and faith made them stronger and more united than ever. They are a people who have proved themselves unshakable, even in the face of profound heartache and grief. Perhaps the town's Mayor, Tommy Muska said it best when he proclaimed, "This town will not die on my watch." He was not alone. The entire town lived the expression and made sure West would survive.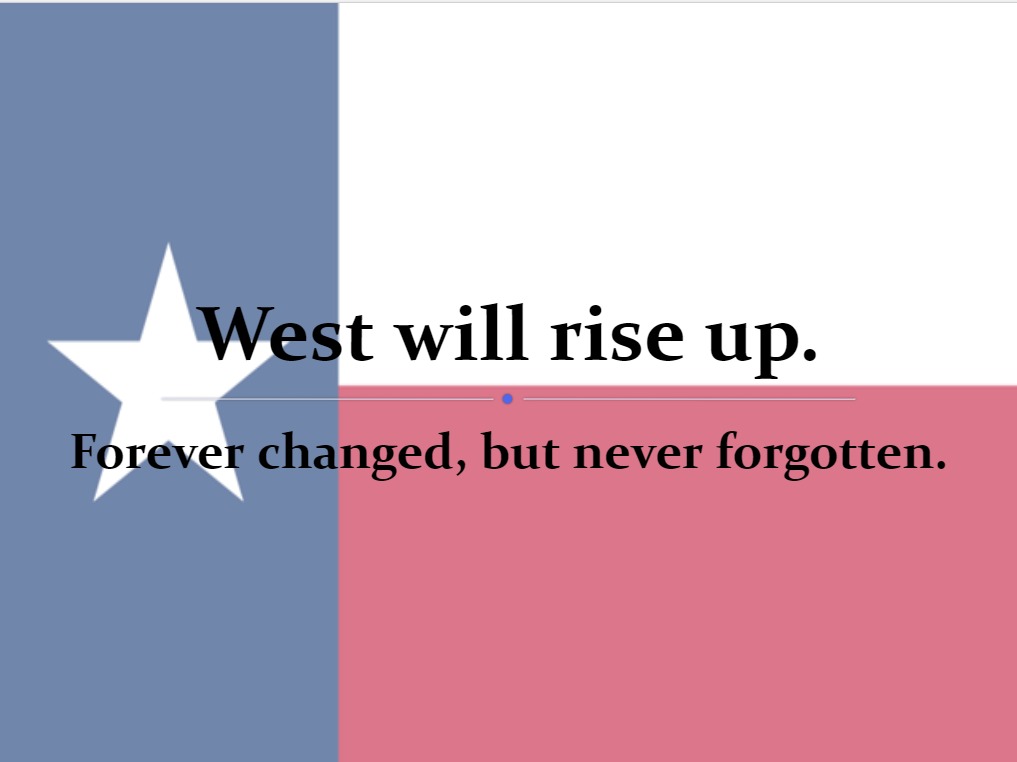 The Mayor is a good example of why the town survived and came back stronger than ever. He was not alone, but one of many whose home was badly damaged, and rendered uninhabitable. After confirming that his wife and daughter were okay, he set to work with the city council, many of whom had also lost their homes, to take care of the city and get it functioning as quickly as possible. The Mayor and Frank Patterson, coordinator for the McLennan County's Emergency Management convened at 9 a.m. the next morning and started systematically going over the problems they were facing: evacuation, safety, and a lack of utilities because they were turned off to prevent gas leaks and flooding water. Immediately they began putting together a plan to get the town operating again.
"Those council members didn't worry about what their situation was," the Mayor recalls. "They came to the meetings every day, often twice a day, and we had them for weeks and weeks and weeks, without worrying about where they're living or how are they were going to get there. There were a lot of people that pulled together citywide, and there was a lot of people from all over that showed a kindness and generosity that was unsurpassed."
He says he was and still is humbled at the faith and grace of the families who lost a loved one. "The people of West are the most resilient in the world, the city is God's favorite."
Mayor Muska sums up the post explosion period with pride. "I don't know if there's a word for how proud I am of these citizens, how they all came together. They didn't wait for help. They just started picking themselves up and moving forward. The main thing is that they didn't look back. They took it upon themselves to rebuild. They weren't going to let this define them. They were gonna beat this disaster. And so they have, they've come back in spades. They rebuilt the streets, the houses are beautiful. We are survivors."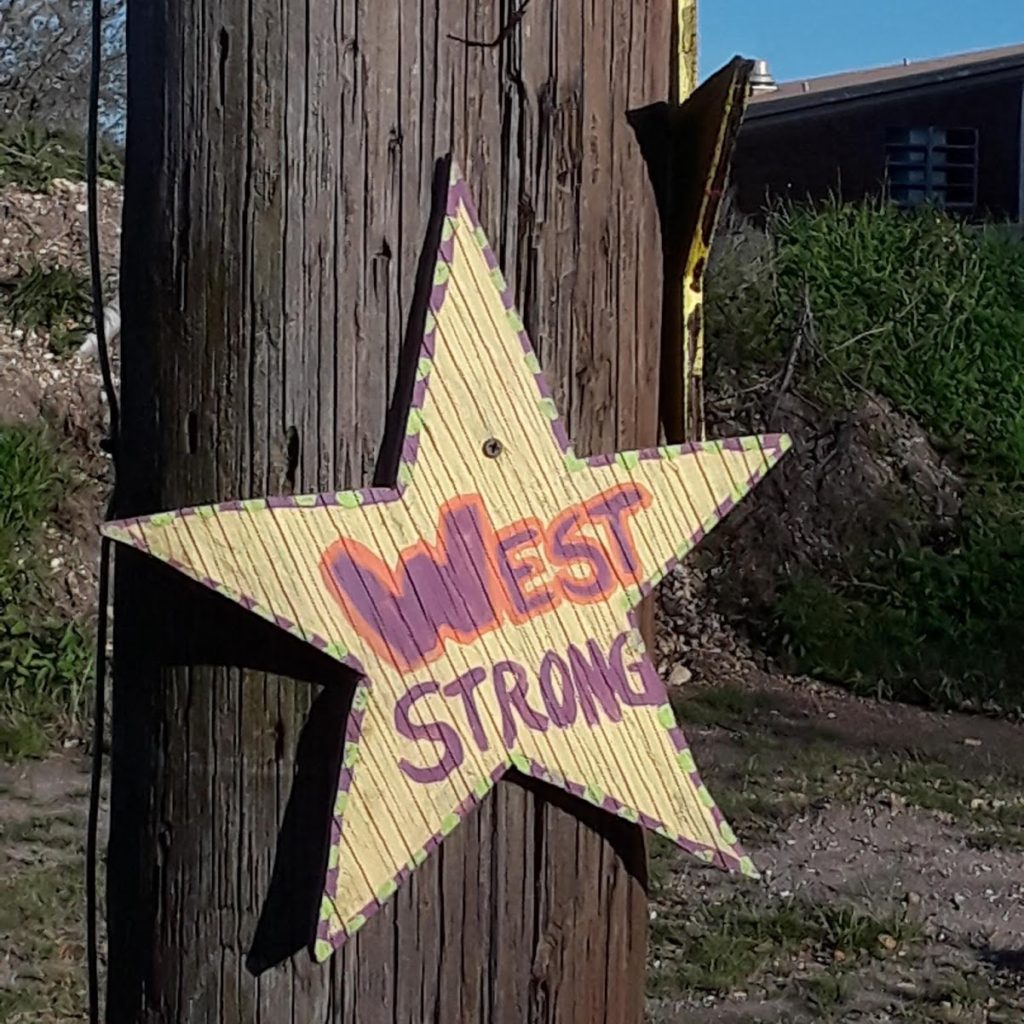 A prime example of how the people of West immediately took care of one another was the shelter set up by the Red Cross for people displaced from their homes. They were prepared to shelter dozens, if not hundreds. No one showed up. Why? Because everyone was taken in by a relative, a friend or a neighbor. People taking care of people, that's what they do in West, in Texas.
In tragedies like this one, a monumental task is to locate and account for the residents. It is often a dire and foreboding task as they look for the dead, the injured and survivors. It can take days, weeks. In West, they were able to account for every resident in two hours, whether they went to a hospital, a friend or relative's home, or a hotel out of town.
That night people began flowing into West to volunteer in any way they could. Frank Patterson estimates that 2,000-3,000 people flooded West to volunteer, in addition to thousands of first responders, EMTs, firefighters, and others.
Perhaps no outpouring of assistance was greater than how the community and strangers flocked to West Rest Haven to rescue the nursing home patients and take them to safety. The nursing home was located near the fertilizer plant; the explosion caused it to fold like a house of cards.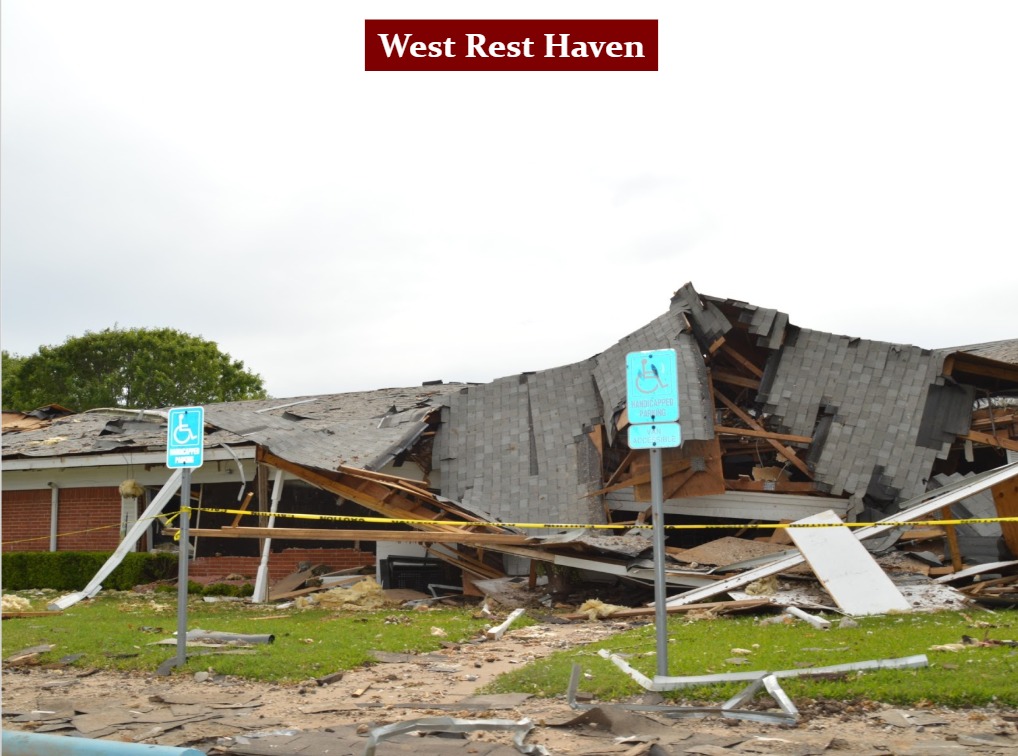 Rose Ann Morris, the home's administrator remembers the night well. When she got to the home, her first thoughts were that everyone was dead. She couldn't see how anyone could have survived. The ceiling had collapsed, there was standing water everywhere from the sprinkler system that went off, pipes had busted and wiring hung down, insulation, water and debris covered the floor. Then she heard crying and screaming and her first thought was, 'okay, people are alive.'
"One of the best things I saw that night was all of the people that came from this community to help. You couldn't roll out any of our residents in wheelchairs because you couldn't roll the chairs on the floor, there was too much debris. We had to carry them. They took them out the windows because the windows were blown out."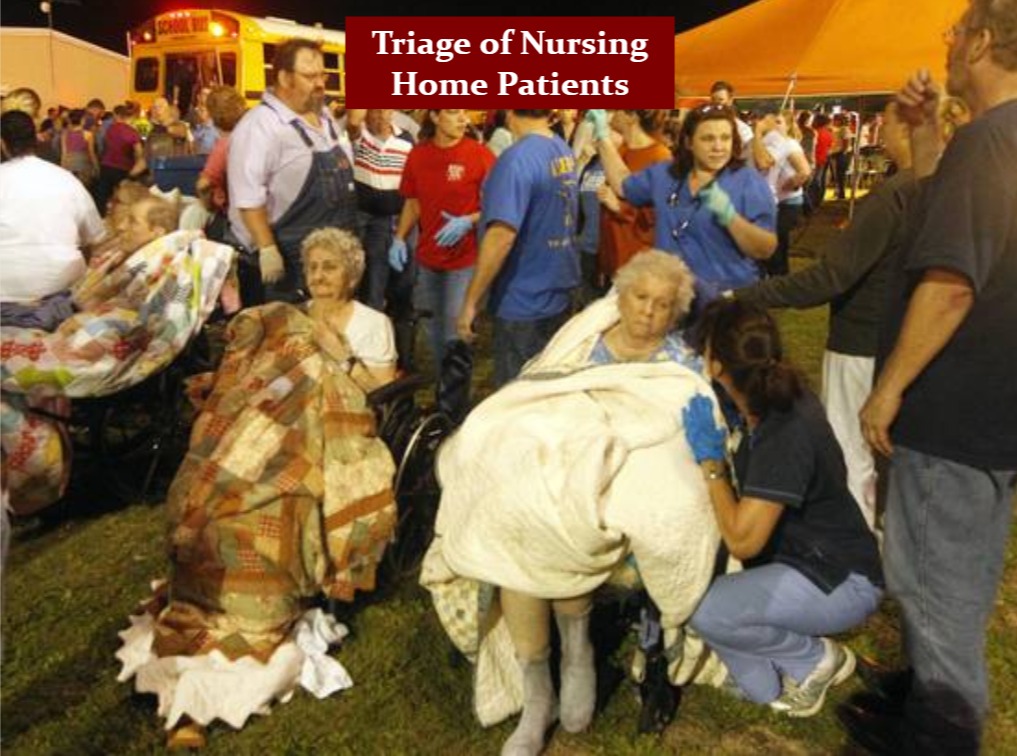 West High School football players were just one of the many groups that carried people out through the broken windows, having carefully wrapped them in bed sheets. Many of the football players came to rescue a grandparent or a friend's grandparent and found themselves rescuing scores of others as well. Other people drove up in their cars and loaded residents into their personal vehicles and drove them to safety. Others loaded patients strapped in wheelchairs into the back of pickup trucks, where the chairs were tied down not to move. A volunteer in the back of the pickup trucks kept the residents reassured and calm. Others pushed patients in wheelchairs first to the football field, then to the community center, a distance of two miles. Initially the football field served as the medical triage, but when the winds changed direction toward the football field and people feared the patients would inhale the toxic fumes, they began pushing the wheelchairs to the community center. A parade of volunteers pushing wheelchairs filled the streets like a caravan.
"The silver lining to me on that night was all the people that showed up to help," Rose Ann Morris says. "The community came together to help us. It makes you kind of weepy. People are just……they do the right thing."
Dr. George Smith, the medical director of West Rest Haven, at the time, was one of those caught inside the nursing home when the ceiling collapsed. He had rushed to the nursing home when the fire broke out and began mobilizing patients away from the area closest to the fertilizer plant.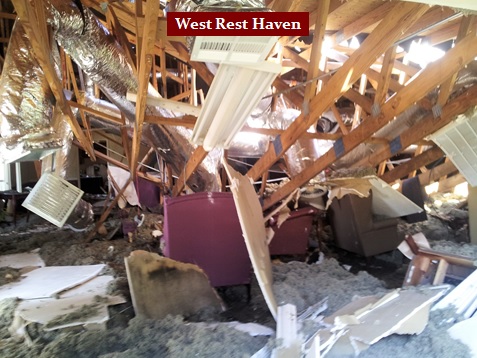 He recalls "We didn't have all of them moved, but we had quite a few. There's an outside day area where they play cards and dominoes, we got them out of there. Had they been sitting where they were when I arrived, most of them probably would have died because it had the most amount of damage."

Dr. Smith says he had no idea there would be an explosion. All he could think was that he had to get his patients away from the potential chemicals should the winds shift. When the fertilizer plant exploded, the force of the blast knocked him down, he was hit by a massive beam and rained on with heavy debris. Though bleeding and hurt, he brushed himself off and launched into his extensive disaster training.

"I knew that we needed the urban search and rescue teams out of Texas A&M. We were self-sufficient, but I knew immediately that we needed more help. I knew we would need a lot of ambulances, cranes, search dogs, urban search and rescue people."
Despite the repeater towers being down he managed to contact Frank Patterson, the Governor's Emergency Task Force, the Texas Medical Association in Austin, and the Regional Advisory Council that he helped found. From counties all around fire trucks and mutual aid rushed to the rescue.
Although he had been hit by a beam and was bleeding from multiple lacerations, he ignored medical pleas to go to the hospital. He had only one focus, "I had to go on disaster mode because I knew I couldn't help one or two people. I had to make sure that I got a hold of the people that could help the most number of people. I had to turn to command mode, not doctor mood, and that's the hardest thing to do. You know, you can't take care of one person and let 50 others die. One person has to make arrangements to make sure that that all 50 of them are alright."
Thinking back to the worst disaster he had ever witnessed, Dr. Smith adds "We were blessed that more people were not killed. Because it was a big fire and a lot of people went out to see the fire, they were outside. When the explosion happened, most people were knocked down to the ground and were not badly injured. Those that were badly injured were inside buildings where the buildings collapsed around them."
Even though his personal losses were great and he suffered significant injuries, he reflected on what truly matters when he commented in the film Forever Forward made for the one year anniversary of the explosion. "In the blink of an eye I lost everything. I lost my house, I lost my clinic, I lost the assisted living, the ambulance service, the nursing home, lost many good friends some of whom I helped train. Buildings can be replaced. People cannot."
Dr. Smith and Rose Ann Morris both say one significant silver lining that came out of the blast is the new nursing home built on a new site that opened in August of 2015. The former home had its limitations, due to its age; it was built in 1967. Although the new building has a few less rooms, each is larger and has a private bathroom accessible for wheelchairs, showers in the bathrooms instead of down the hall, larger spaces in the dining room, kitchen, laundry and visitation areas, and better energy efficiency. It's a beautiful facility more reminiscent of a hotel than a nursing care home.
Tom Marek, Supervisor of the West Emergency Medical Services (EMS) and Mike Reed, Assistant Supervisor, were astounded by the outpouring of support from throughout the state. With the EMS building in shambles, they weren't able to operate normally; two of their three ambulances were destroyed.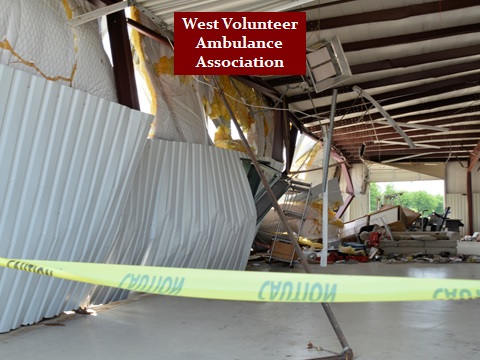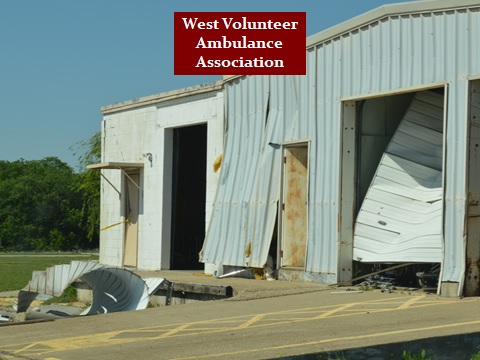 Marek is particularly proud of the McLennan County 911 dispatch center that was coordinating agency responses. They also handle dispatch for the city of Waco Police Department, East Texas Medical Center, McLennan County Sheriff's Department, and all the volunteer fire departments in McLennan County. Tom explains that there's one central hub, and there are numerous dispatchers in the same room. "Once they heard the outcry, between all of them, it was not one individual, the whole dispatch center took it on themselves to notify outside county resources and state resources." First responders throughout the state heard what happened and began arriving from as far away as Lubbock, Odessa and Midland in the western portion of the state, East Texas Medical Center, Fort Worth and other cities.
Mike Reed remembers average citizens pulling up to the nursing home and, saying, 'what do you need help with'? "So we just started using their vehicles to maneuver people down to the community center. People just came out. Yeah, they were just helping. It was real, real nice to see. It was a little overwhelming at first. It was the best example of controlled chaos that I've ever seen. Everything was moving with a purpose, but it was still a chaotic. There were donations of clothes and food. It just came pouring in. Huge donations of clothes and food at the rodeo grounds underneath the big pavilion. There were pallets and pallets of water and nonperishable food items and baby clothes; they collected everything."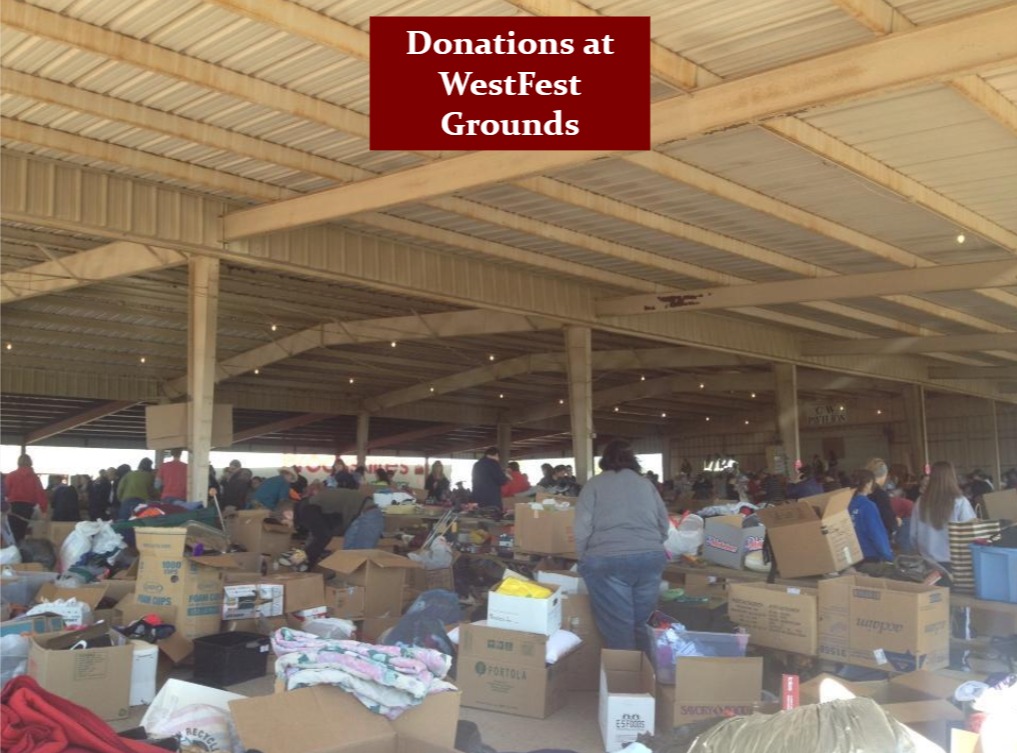 Though it didn't surprise him, because he knew the people of West to be generous, he was still astounded by how people took others into their homes. "They were taking in people they knew that lived here, people whose houses were destroyed. They were saying, hey, come on in and stay with us. It was just an awesome sight."
When he thinks about any silver linings that came out of the blast he is quick to answer. "The biggest one I could think of: it changed the way the chemical companies do business. To me it would change the way that stuff is stored to make sure it doesn't happen again."
The town-wide effort to help residents went beyond immediate emergency assistance. The entire north end of town was devastated resembling a wartime bombing blitz that left homes uninhabitable.
"What a lot of people don't understand," says Tom Marek, "when you shut down one whole section of town the residents can't come back to their homes. Well, we didn't take that in consideration within the first 72 hours."
"In a normal disaster situation we tried to do what we call the tracking method of tracking how many people we take out of the area, to account for where we're taking them. And that night we tried, but a lot of them ended up in personal vehicles, the bystanders took it on themselves. If they saw that a nursing home resident had cuts or bruises or injuries, instead of taking the person to the community center, they took them directly to the hospital. Which was great because they got where they needed to be."
The pharmacists in town, Mike Sulak of West Drug and Kirk Wines of Old Corner Pharmacy were no less affected. Mike Sulak's home was completely destroyed, nevertheless he opened the pharmacy the next morning to assist his customers. They were able to provide medication to their patients who could not get back into their homes. Kate Hollis, a pharmacist from Waco, a woman he had never met, came in and volunteered to oversee the pharmacy so that Mike and his wife could attend to other matters. Former employees also came in to see how they were doing and also offered to help. He remembers it well.
"We were open and fully operational before 9:00 the next morning. Our prescription records were undamaged and fully accessible. Much of the next several days were spent giving information and records by phone and fax to hospitals, doctors, nursing homes and other pharmacies. The only impediment was a lack of running water. We did have distilled water for compounding and bottled water for consumption and hand washing. Many of our customers were in situations like our own, unable to return to their homes and without their prescription meds. I gave these people a week's supply of their meds, and a week later, when many like us still couldn't get back into their homes, another week's supply."
Kirk Wines is a volunteer fireman in West and was working late into the night that Wednesday. Then it dawned on him that the pharmacy could have been damaged. He checked on it and found everything secure. That's also when he learned that he could not return to his home. His brother took them in for the night. He got to bed between 1:00 a.m. and 2:00 a.m., but didn't sleep for long as his phone started ringing.
"It was a nursing home from Waco that had received one of our patients and had no information on the patient. I got more calls from different nursing homes seeking patient info. I came into the pharmacy at 6 a.m. and started faxing prescription records for our West Rest Haven patients. Then our regular patients started calling and coming in because they too could not get to their homes to get medications."
One problem he encountered immediately was that most of the prescriptions were too early to bill insurance. Nevertheless they dispensed a week's supply to anyone that needed their medications.
He says that "In the days that followed, I received donations from all over and we used that to help pay for some people's meds. We finally argued enough with insurance companies and were able to bill with an override for disaster. It just took a while. We did whatever was necessary to take care of our patients' needs. Eventually, insurance came through and donations took care of some."
And then there was all the food and donations. Groups set up in the VFW Hall and Knights of Columbus Hall to feed anyone free of charge who needed a meal, be it breakfast, lunch or dinner. From barbecue to home cooking, residents, first responders, and volunteers could find a hot meal for weeks and weeks. Eighteen wheelers rolled into town with trailers filled with bottled water, a welcome sight considering the town's water was shut off. Employees from Baylor University's hearing department conducted hearing tests and gave out free hearing aids. Donations of clothes, shoes and basic supplies poured into the WestFest grounds.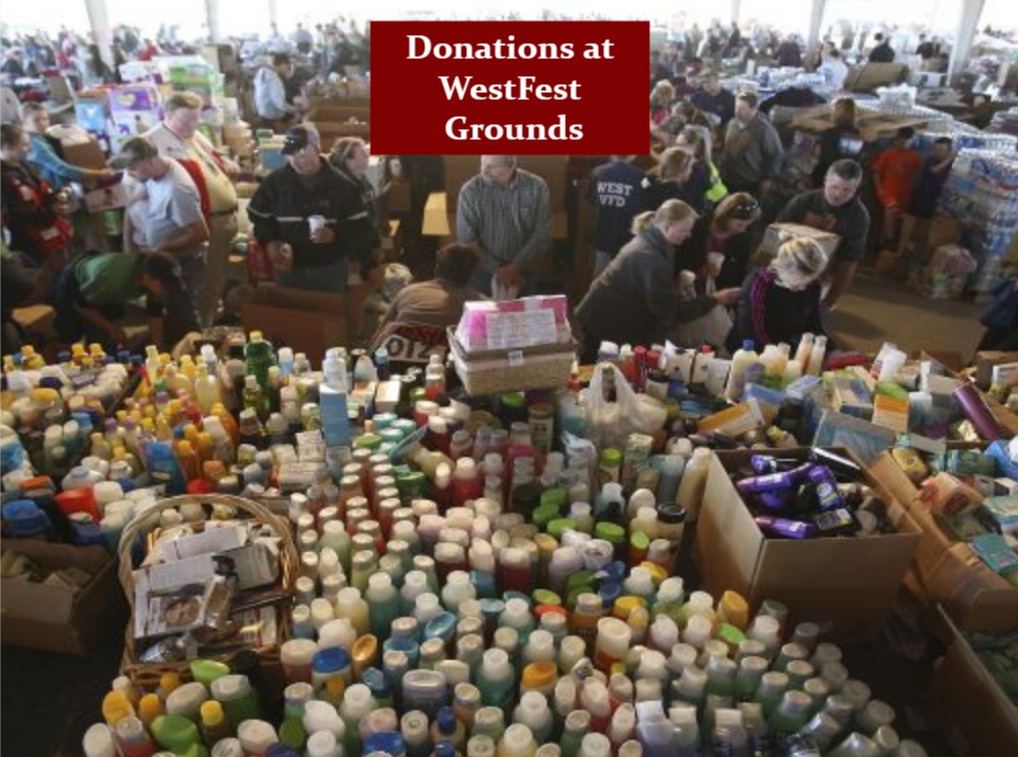 All residents had to do was show up, show an identification of West residency, and they were given access to gather whatever they needed for their families.
Janice Kaluza wears several hats. She's a wife, mother, Funeral Director of the Alderhold Funeral Home and has been a volunteer EMT for the West Volunteer Ambulance Association for over 30 years. She is also a woman of profound faith and it was that faith that saw her through the worst calamity she has ever witnessed. She was in a nearby town when she heard about the blast; Janice's first instinct was to race back to West and help with the triage.
"I knew there would be serious injuries or casualties, but had no idea that the entire north side of town would look like a war zone and that there would be a magnitude of injuries that I had never encountered before in my entire career of emergency medical services. The explosion brought our little town of West to their knees."
As she was helping load patients at the nursing home her family received a call that her brother, Kenneth Matus, was at the fertilizer plant as a first responder and was in serious condition at Hillcrest Hospital in Waco. He was placed in an induced coma because of lung injuries, had an impaled object and shrapnel removed, and suffered severe nerve and muscle damage to both arms. Her parents and sister assured her they would call if she needed to hurry to the hospital. Even though she knew they would have liked for her to be there with them they acknowledged that there was a greater need in helping those in West. At the time no one had no idea how many were injured because of the severe damage, fires, smoke, and shock in all areas of town. Janice was one of the people rolling a wheelchair down damaged streets trying to get the nursing home residents to the community center on the south end of town.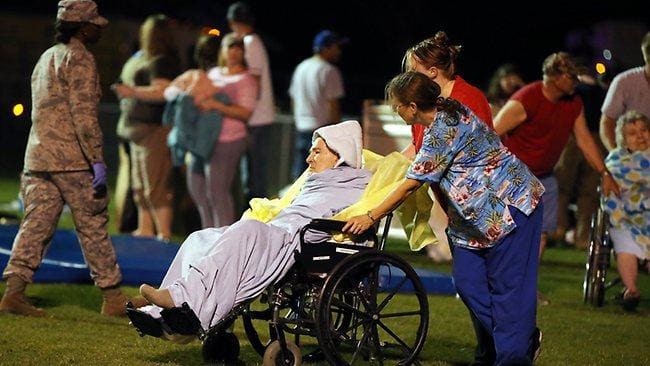 Her mind was never far from her brother. She tried to stay focused on the job in front of her.
She says "I can't tell you who all helped that night because we were all numb and doing what we had to do. The residents from the nursing home must have been praying or didn't understand what was actually happening, because I don't recall any of them carrying on a conversation."
The next evening after the explosion she recalls how the community, from all walks of faith, joined together at St. Mary's Catholic Church of the Assumption to pray for each other and all who had lost loved ones.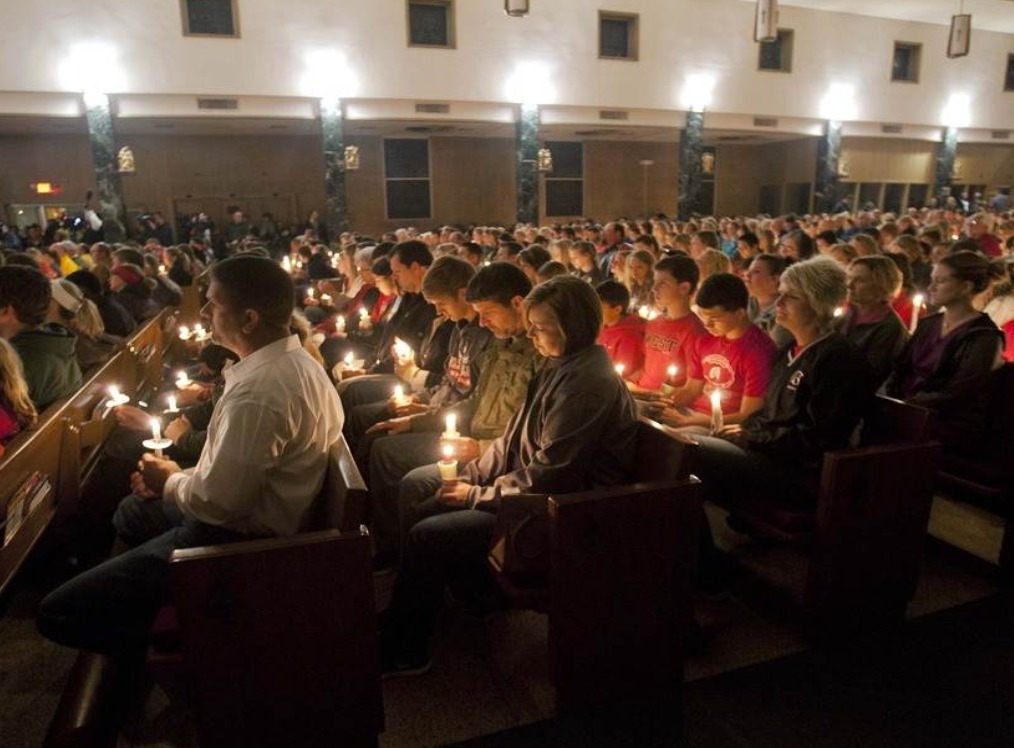 "There were lots of tears shed; it was a beautiful place to gather in the House of God to draw faith, hope, love, and strength from each other. When you experience the love of even one single heart it can make a world of difference in the healing process."
Janice has no doubt that the people who rushed in immediately helped to make each individual stronger than they ever thought they could be in such a tragic situation. She remembers experiencing weak moments when she wondered how they would get through the catastrophe, how they would get through each day. Preparing for and managing 10 funerals almost simultaneously, was more than overwhelming, but her faith in God saw her through.
"We had people from other funeral homes in the region coming in to assist in any way they could, retired and active funeral directors, volunteers to do paperwork and answer phones, firemen who volunteered and rotated 24-hour shifts so the families' loved ones were never left alone."
She says that all of the services of the Fallen Heroes were hard, but the hardest was to prepare a funeral and bury Joey Pustejovsky, her best friend's son, and her cousin, Jimmy Matus. Facing such grief, her faith in God sustained her.
Janice thinks about the many volunteers who came to help, many of whom they didn't know. How they reflected the light of God and that gave them the hope and strength to endure a horror they never imagined and didn't know if they could ever get beyond. When in the middle of a tragedy, she explains, a person goes through shock and life as you once knew it seems surreal and out of reach because for the time being, this is your new reality. Janice has no doubt that it was the light of those volunteers who helped them through the unthinkable, the unimaginable. "It helped us rise up and rebuild our community."
Reverend John Crowder of West First Baptist Church remembers it as a time when people demonstrated their deepest character. A modest man by nature, he deflects credit for the tremendous role he played in bringing the community together. Nevertheless, his actions helped heal the town and helped pave the way toward recovery. He prefers to talk about what others did to bring West back from disaster.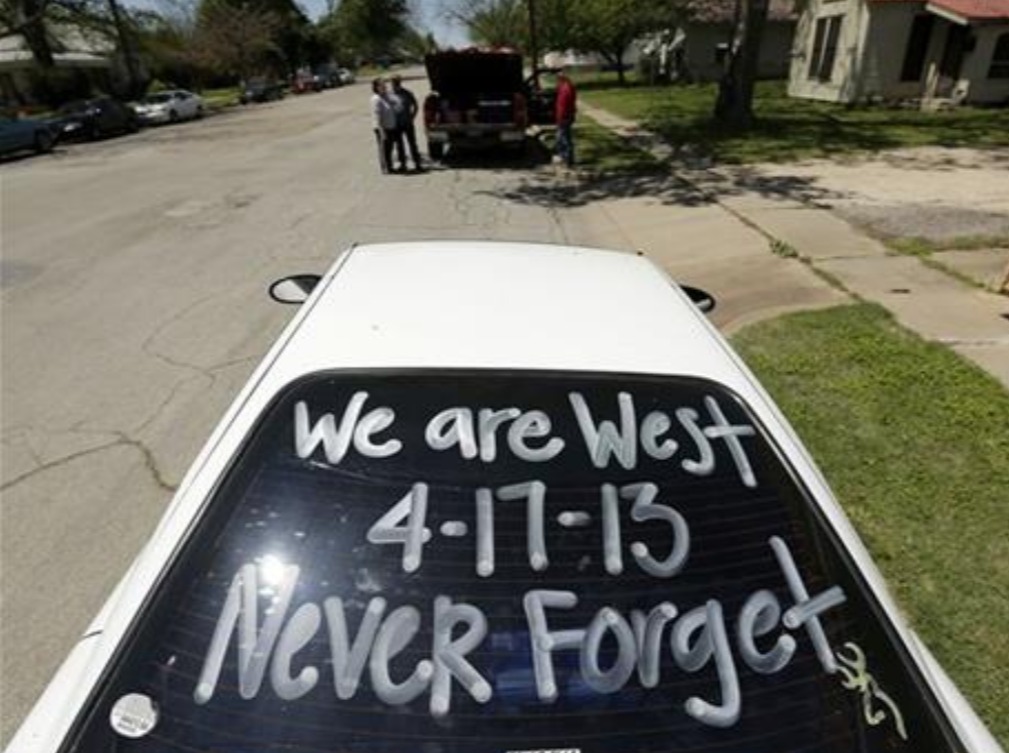 "We had more volunteers in our town the night of, than the total population of our town. And that for me is one of those silver linings. I mean, look at how the state came together and how people took care of one another on a moment's notice. Literally driving from all across the state to get here as quickly as they could to help people in need. This state takes care of itself. We really do. I think folks just kind of watch out for one another and do what they can to take care of one another. These events remind us how much we need one another. When our world fell apart, we just started doing what we could. You start working and as you start working, you learn what else needs to be done."
Even though it was difficult at best, Reverend Crowder never lost sight of the big picture. He remembers thinking, 'As bad as this is, God is bigger than all of this and we can trust him to get us through this.'
The night of the explosion Reverend Crowder made a phone call to the Baptist General Convention of Texas and asked for the Texas Baptist Men, a ministry best known for disaster response, to come help. They came immediately, set up in the church fellowship hall and started providing three meals a day, be it to residents or the hundreds of volunteers who came and stayed for weeks and months. Many of them slept on the Sunday school room floors.

"They also brought a trailer that had showers in it because there was no water here on the north end of town," Reverend Crowder recalls. "Once people could get to their homes, they still couldn't shower or do their laundry. They brought in a trailer. You could come and take a shower and they had washing machines and dryers so you could drop off your dirty clothes and they'd clean them and return them to you."
One of the most astonishing gifts to the people of West was the home demolitions. Dozens of homes needed to be taken down and that's expensive. If a resident uses their insurance money for demolition there is little left for rebuilding. Reverend Crowder realized that because his own house needed to be demolished. He expresses careful insight in describing the psychological process a person goes through.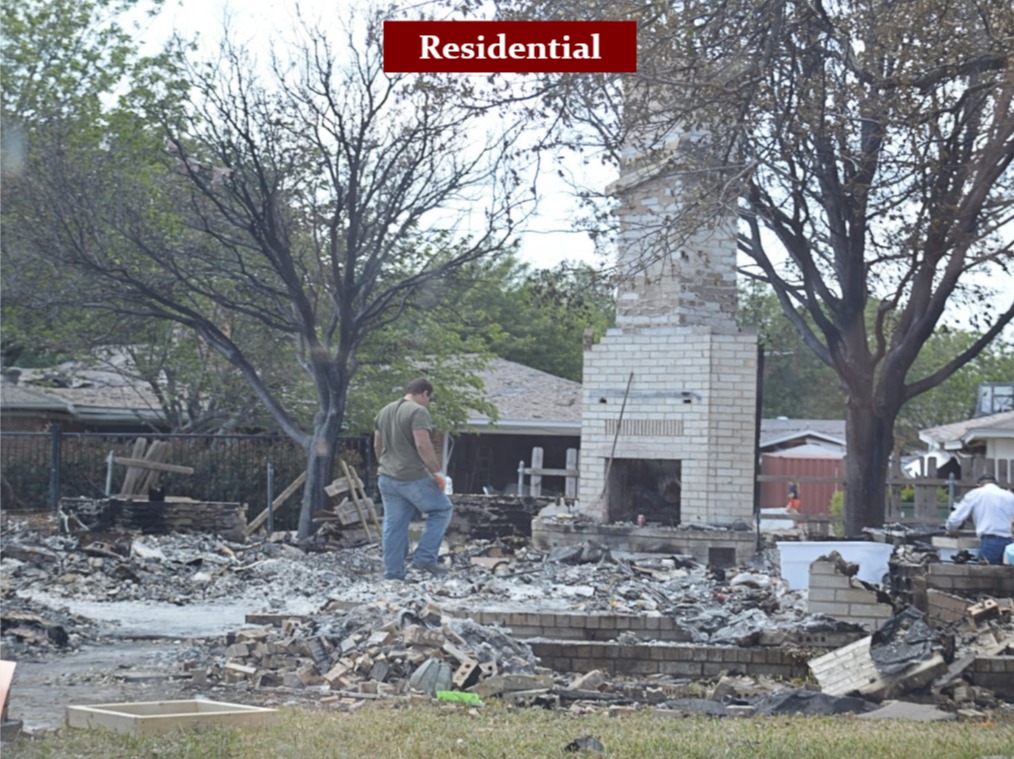 "When you get to the point where you're finally ready to tear down your house, that means that you're no longer in the disaster relief stage where you're just trying to find food to eat and shelter. You've moved into disaster recovery stage, and it's two very important stages. People don't usually understand the difference, but they're completely different experiences. When it's time to demolish your house, that means that you're no longer in the relief stage, now you're ready to move forward."

Their goal was to see if they could find a way to provide demolitions free of charge. Reverend Crowder says that's when Baylor University stepped up. They held multiple fundraisers and gave West a tremendous sum of money. Other people and organizations donated generously as well. They set up a fund that would use the donations for the demolitions.
The Baptist Men (and women) were primarily retired and though they had done a lot of disaster work none of them had ever demolished a house. That didn't stop them nor did they hesitate to learn how to demolish a home. One of Reverend Crowder's deacons who was familiar with the process and knew what to do, donated his equipment and taught the retired Texas Baptist men how to take down a damaged home. Then he, and three or four others started taking care of everybody's demolitions. Initially they demolished 65 homes completely free of charge to the homeowner.

When it was time for the Texas Baptist men to move on to the next disaster the group was able to show the city how they had set it up. They took down another 42 houses, well over 100 demolitions, every one of them free of charge to the homeowner. Volunteers and generous monetary contributions made it possible. In all, three million dollars in donations was collected for recovery; $1.6 million was distributed from the West Long Term Recovery Center. Reverend Crowder made sure that everyone else's home was done first, then he allowed his own home to be demolished.
When it came time to tear down the apartment building where two people died, one of Reverend Crowder's deacons went in with heavy equipment and knocked down the skeleton of what remained.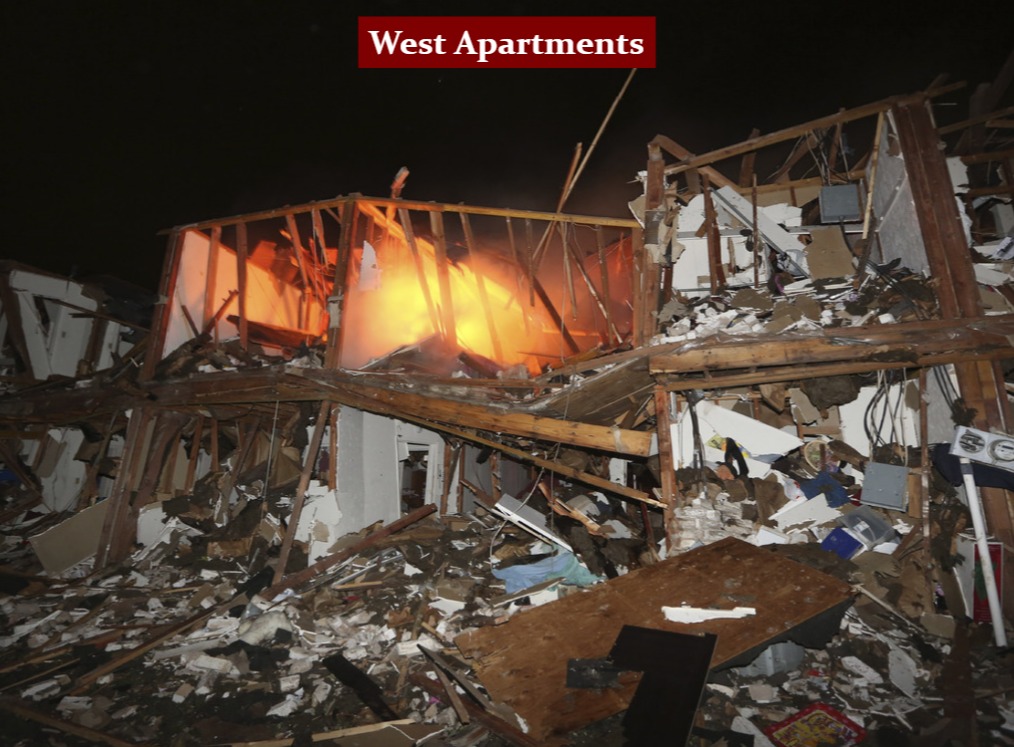 A Christian radio station in Dallas started broadcasting the need volunteers in West. Hundreds of volunteers showed up on the chosen Saturday to comb the rubble of the destroyed apartment complex. They separated out anything of value and threw away the trash. It could only be done by hand because there was so much to go through. As they were sorting through the debris, they received a call from a young woman who had lived in one of the apartments. She said, "I know I've lost everything, I understand that, but the one thing in life that I really wish I could have back is a little blue box." She explained that she had an infant child who died in the hospital, long before the explosion. The blue box held his birth certificate, a lock of his hair, and the hospital band. "If you see this blue box, that's the only thing I really want to have."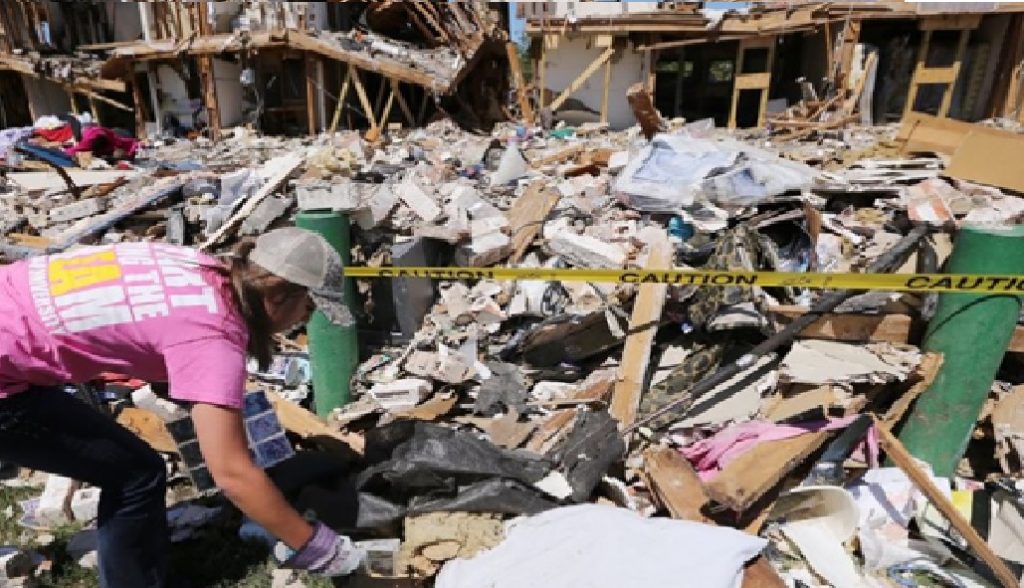 The volunteers were told the story and as they're sorting through through the rubble, one of them found the little blue box. Though they didn't have the mother's phone number they were able to locate and contact her on Facebook. When she returned to the demolition site Reverend Crowder assumed that the volunteers would hand her the box and she would be on her way.
"Instead when she got out of the car, about 20 volunteers just dropped whatever they were doing. They came and surrounded her, gave her the box and they all laid hands on her and prayed for her and gave her encouragement."
Miraculous finds continued a couple of weeks later when the group was tearing down a house across from the apartment building. Before the blast the family had lost the husband, a World War II veteran. At his funeral the pallbearers folded the flag and held a flag ceremony, where it was placed in a triangle frame and given it to the wife. The night of the explosion the wife lost everything in the home. As they were demolishing the house, Tom Marek of EMS was on a machine, and digging through all the debris when he saw a little flash of red. He got off the machine and went over to hand dig through the rubble. He found the lost flag. He called Reverend Crowder who came over, picked it up and took it to the funeral home; they had it dry cleaned. They contacted the same pallbearers who had folded the flag in the original ceremony at the funeral. They held another ceremony where the same pallbearers folded the flag again and presented it back to the wife.

One of the most heartwarming acts of kindness mentioned by Reverend Crowder, Mayor Muska and others was how the Connally Independent School District (ISD) located 13 miles from West offered a vacant building, the former Connally Intermediate School in Lacy Lakeview, to the middle and high school students displaced by the blast when their schools were destroyed. Because the Lacy Lakeview school had been closed two years previous, there wasn't much inside. The Waco ISD donated furniture for the building, while McGregor and China Spring school districts put together packages of school supplies for the West students. Spring ISD, near Houston, donated 13 school buses to replace those damaged in the blast, the West bus drivers drove their normal routes. Not only did the Connally ISD offer space, their students came in of their own volition and repainted handrails, steps, borders around walls and doors, changing the color from Connally Cadets blue to West Trojans red. The blast occurred on a Wednesday evening and by the following Monday morning, the school building was ready in red for the West students. As the West students stepped off the school buses they saw a banner welcoming them and Connally students lining the sidewalk, clapping. Then the Connally students gave the West students new backpacks filled with the new school supplies. The West students made it through the school year with the help and generosity of the Connally ISD and its students. Hard as it was to lose their schools West ISD reopened a new state-of-the-art facility that houses its new middle and high schools together. The buildings are energy-efficient designed with pride, functionality and aesthetics.

Many in West are quick to point out that had the explosion occurred in the middle of the school day, West could have lost 50 to 70% of their teenage children. How would a community ever recover from that? Many call it a blessing, if not an absolute miracle that the explosion ripped through town in the evening when the middle and high schools were vacant.

That Monday after the blast as the older students were starting school at a new location, the elementary school students were back to classes as usual; their school was far from the blast zone and left unscathed. The sight of children playing in the schoolyard, brought tears to Reverend Crowder's eyes as he drove by. "I saw children in our playground, playing, running, laughing and it planted in my heart a picture of hope. I knew that we had a tomorrow. I knew that we had a great hope and the promise of a better tomorrow is being fulfilled today."
The countless donations and grants that poured into the city from private individuals, federal and state agencies was nothing short of mind boggling. Below is an impressive, although incomplete list of how the people of West, Texans, Americans, and people from around the world came to the town's aid.
$3 million in donations were collected for recovery and $1.6 million was distributed through the West Long Term Recovery Center.
Extremely generous monetary contributions came from Baylor University and other entities to fund the home demolitions.
Proceeds from Willie Nelson's 80th birthday celebration concert. He wrote a check for $120,000, part of it for the West Volunteer Fire Department and the rest went to his nearby hometown of Abbott, to cover the loss of Abbott's Volunteer Fire Department's fire truck destroyed in the explosion.
A group of citizens in India paid their own way to travel to West to present $50 Visa gift cards and blankets to West residents.
That night 285 doctors, nurses and healthcare workers showed up at Hillcrest Baptist Medical Center in Waco to volunteer their services to care for the injured. A Massachusetts surgeon phoned in a $100 pizza order for the healthcare workers treating the injured.
The morning after 200 people lined up to donate blood at Carter BloodCare Center in Waco.
The Church of Christ in West gave away new appliances: washers, dryers, refrigerators and stoves to anyone who was displaced.
The Society of St. Vincent DePaul provided mattresses, bed frames, kitchen utensils and more.
Over 120 organizations poured into West to do whatever was needed.
A young boy, Parker Pustejovsky, began hot dog fundraisers to rebuild West City Park. His father, Joey, was a volunteer firefighter and the town's secretary who died in the blast. Affectionately known as Parker's Park, the fundraisers pulled in $83,000. Ironically, Joey was born on 8/3/1983 at 8:03 and weighed 8 pounds, three ounces at birth. No one believes that all those numbers are a coincidence.
In 2018 the city of West received more than $10.44 million from multiple defendants to help pay for damages not covered by insurance or grants from state or federal agencies The state of Texas provided $4.2 million for the city's infrastructure project. The Federal Emergency Management Agency provided $766,000.
More than three miles of streets were repaved or dug up and reconstructed. All of the 13,370 linear feet of water lines and 8,140 of sewer lines called for in the recovery plan have been built, as well as a new city well and water tower on the destroyed north side of town.
The new infrastructure is a massive improvement over the condition prior to the blast. The 60 year old water system was poor at best and drainage was bad. The blast took out one of the city's two wells leaving the city to function on only one well. Many of the town's streets were in poor condition prior to the blast and suffered immeasurable damage when the plant exploded. Now in the north end of town it looks like a new subdivision with new houses, new streets, and below ground a new sewer system and water lines.
West ISD completely revamped its facilities at an estimated cost of about $70.5 million, without additional costs to school taxpayers. That included $19 million from federal disaster funds and $10.3 million from the Texas Education Agency, with the rest coming from insurance. The biggest portion went to the new $50 million school, which is split between the middle and high schools. By co-locating the schools it allowed the schools and students to share three gyms, cafeterias and an auditorium in addition to computer and technology labs, amenities the schools did not have pre-blast.
Ben Ranzinger is a local man, born and raised in West. He's made his career in television production, having spent 10 years working for KWTX in Waco. He's also the guy people call when their computers need fixing. He was out of town on a film shoot when the explosion tore through West.
He says, "Time stood still. It happened, it was such a shock. I can't remember certain portions of it. I just can't, even today."
Ben spent the days immediately after the blast on what he calls 'auto pilot'. He knew what to do. He remembers being contacted by all forms of media. Although not always the case in horrific tragedies, he says the media in the local area were the most supportive.
"They wanted to help the community. Did specials, location drop offs, they got the info out, did in-depth stories, including the recovery. They continued helping the community long after."
Not long after the blast he was asked by Tom Marek at West EMS to video the destroyed EMS building for insurance purposes. Then Tom asked him to record the eulogies. Ben set up and recorded eulogies from family members who had lost a loved one in the tragedy. The film clips would be used at the memorial service to be held at the Farrell Center on Baylor University's campus. Later Ben produced the Forever Forward video that was played at the one year anniversary. It was both a tribute to those lost and a testament to the impact the blast made on the town. It was also an affirmation of hope and the road ahead.
One of the people he met was Scott Sanders, the brother of Kevin Sanders, one of the volunteer EMTs with EMS who died. About a month after the explosion Ben met Sarah, Kevin's widow and mother of their three month-old son, Reeve. A friendship developed after they kept running into one another. Eventually they became friends on Facebook. Ben says they mostly chit chatted, and got to know one another slowly. In September 2014 they met up at WestFest, a local celebration of Czech culture and found many commonalities. They soon began dating and taking trips, many to races where Sarah competed as a runner. It was at Baylor's Homecoming that same fall that he met little Reeve. Ben gets a little emotional when he describes how Reeve took his first steps to Ben in January 2015. In April 2016, during a trip to Australia, Ben proposed. They married in May 2017 at a ranch in Grandview, Texas. As Ben explains, since it was a loss, not a divorce, they included Kevin's family in the wedding as well as each of their own, three families. Their daughter was born the following January.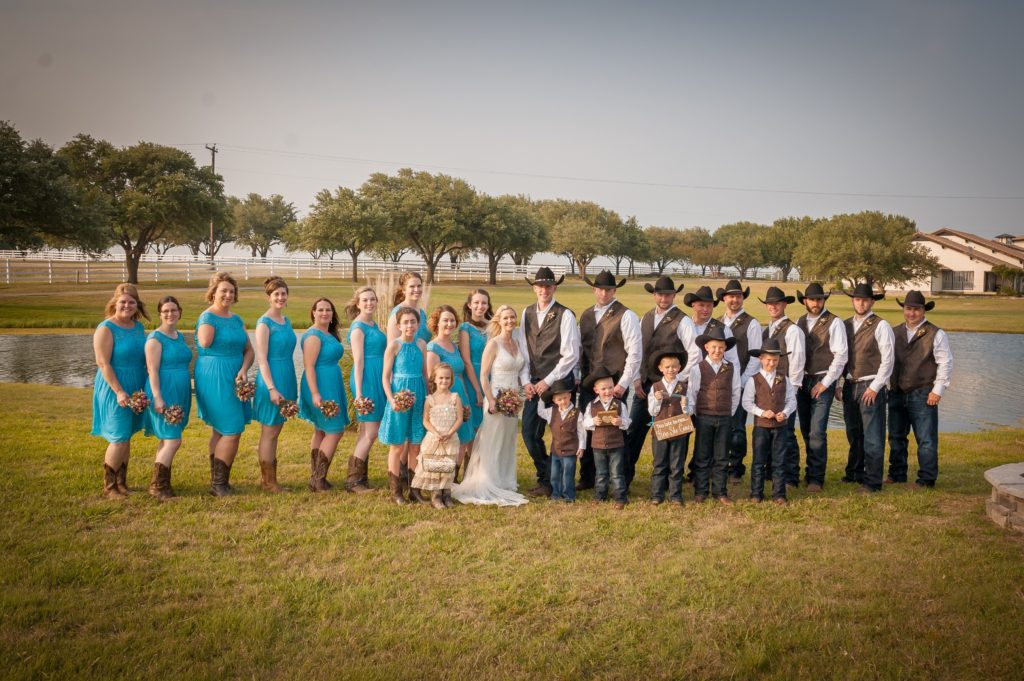 Ben remembers the wedding creating a strange feeling for him. "It was an experience I'd never had before, talking to my wife's late husband's mom. She handled it with grace and strength. Her biggest wish post-explosion was that Sarah would remarry and provide a dad for Reeve."
"We deal with the explosion every day, still," Ben says. "In this town, prior to the explosion there were specific dates that go into history. The explosion, that date, that time, that era is a benchmark for everyone in the town now. People refer to life/events as before the explosion and after the explosion."
Ben says that Kevin has never left, that he is always around them. "There have been a number of strange occurrences, electronic, power things that would come on by themselves. We treat him like he's still around. I can't say what Kevin would say. But from what I've heard from other people is that Kevin had a hand in pushing our union. The sheer number of circumstances that had to occur for us to meet, that's something beyond our control, beyond our visual understanding. If it was Kevin having a helping hand, I tip my hat to him." In 2017, Ben adopted Reeve. He's pretty sure that Kevin would approve.
Cindy Matus was on the phone talking to her brother, Jimmy Matus, as he was driving to the fertilizer plant to help fight the fire. Suddenly the phone line went dead. She called back; no answer. Only later did she find out that she was talking to her brother at the moment of the explosion. She was the last person to speak to him alive.
Three days later dozens of people were gathered in the family home. When it became crowded Cindy stepped outside for fresh air. That's when she noticed an unusual cloud formation above her house. She ran inside and grabbed her camera, just in time to photograph one of the most astonishing photographs to come out of the disaster: a distinctive angel floating across the sky.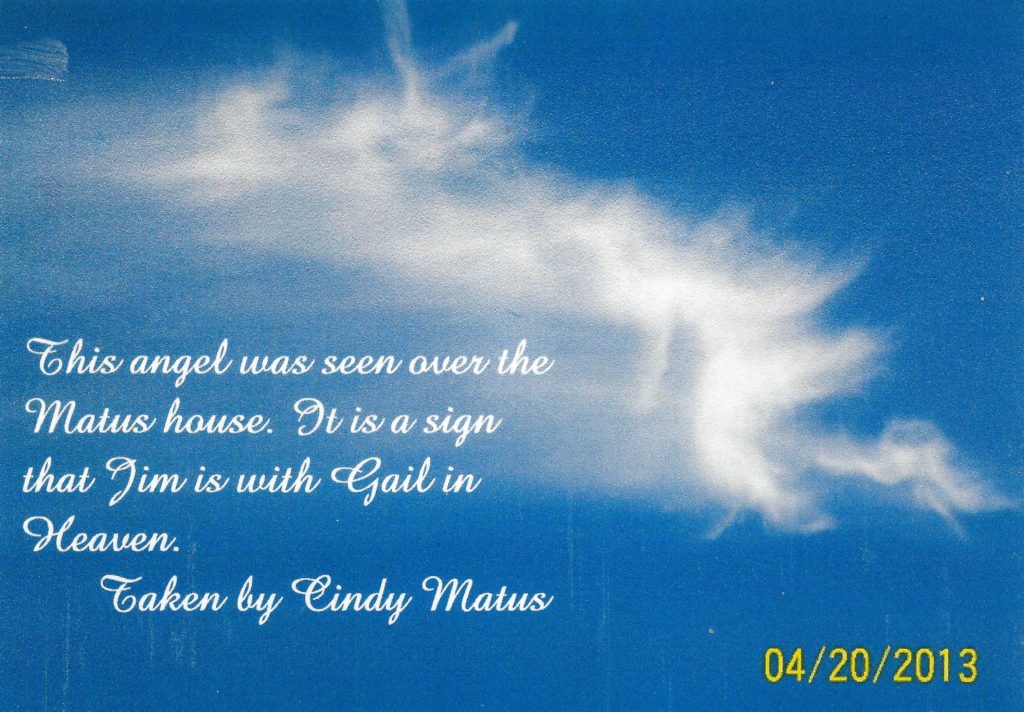 The image appears to be a soul that has left its body, like a wisp of cotton taking flight, levitating over the Matus house just long enough to let his family know that he was alright. By the time others emerged to see what Cindy was photographing the angel had passed. But Cindy had the photo. No one doubted that it was Jimmy sending a message that he was in God's hands. Hard as it was to lose her brother, Cindy took great comfort in knowing that her brother sent her a message of love and reassurance and that he is in Heaven with his wife Gail.
At the dedication of the City of West Fallen Heroes Memorial in April 2019, Texas Governor Greg Abbott remembered it as a harrowing day that brought out the best in humanity. He described it as a time when the entire community was being tested and in response West showed strength of character and resiliency. Senator Brian Birdwell (District 22) described the people of West as possessing "an indomitable spirit that is Texan." Agreed. Truly West and Texas is a place of profound character, integrity and faith, as evidenced by the miracles, blessings and silver linings that rose out of the ashes. The clear testament of recovery and revitalization are as unmistakable as the bluebonnets, Indian paintbrushes and evening primroses springing up along the roadways leading into West. Indeed the explosion could have been the town's demise. But it wasn't. The townspeople made sure of that.