Those who regularly read this blog know that when I find a person or an organization "doing good" I write about it. I stumbled across Make a Difference Day. Sounds nice, but what is it, you may wonder? Well, it's a movement, it's an opportunity to do-something-good to make our world a better place, and who doesn't want that? It's also one of the biggest annual single service days nationwide. It started in February of 1992 and has evolved into a national event held the fourth Saturday every October. In this, its 26th year, MDD will take place on October 28th, just a couple of months away. People come together from around the country with one common goal – to better the lives of others.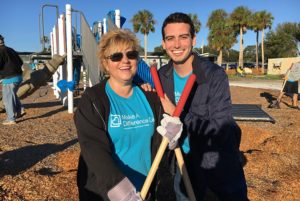 The point of Make a Difference Day demonstrates that everyone and anyone, regardless of age or circumstance or background, can make an impact on their community. Each October, individuals and groups get involved and they indeed make a big difference in their communities. Some are big, some are small, but they all matter. So what kind of things do people do to make a difference? It's simple, but really, really important stuff. Acts that truly improve the lives of those around us. Here are a few stories from the Make a Difference Day website that made my heart sing:
Have you heard of the kids' book, Loukoumi's Good Deeds? In 2009 the book inspired children to do good, just like one of the characters, a cuddly lamb. That same year, the book's author, New York lawyer, Nick Katsoris, used the book to launch a Make a Difference Day Project. Ultimately 1,000 children joined in and raised $10,000 that went to St. Jude's Children's Research Hospital. That inspired Mr. Katsoris to write more Loukoumi books. By Make a Difference Day 2013, the volunteers grew to 40,000, and the year after that – 50,000 kids helped 100,000 people. I particularly love what Mr. Katsoris said about his books inspiring kids to do good:
"The long-term impact of Make a Difference Day is that teaching children at a young age that doing good deeds can be fun is something that they can carry with them for the rest of their lives."
In New Albany, Indiana, Belinda Jacobi, a member of the Moving Forward limb loss support group at the Southern Indiana Rehabilitation Hospital saw an opportunity to help a larger population – their local homeless. They knew that frostbite is a leading cause of amputation among the homeless. With more than 6,000 homeless in their community, including 1,200 children, they decided to collect socks to help keep their feet warm and hopefully prevent amputation. Members of the group placed collection boxes at doctors' offices, the hospital and a fire station. By Make a Difference Day 2016 they collected 864 pairs of socks that they donated to the Salvation Army to distribute.
Daniel Soupiset of San Angelo, Texas was responsible for helping to save dozens of animals from being euthanized. He organized a project to increase pet adoptions from San Angelo's animal shelter, where sadly, about 75% of its animals end up being put down. In 2014 during the month leading up to MDD Daniel and 25 volunteers raised funds for his "Canine and Kitty Coupons" project. On Oct. 25, Daniel and many volunteers set up in front of the shelter and handed out coupons to cover the adoption cost. They didn't just raise over $4,500, they saved the lives of 57 animals who went onto their Forever Homes.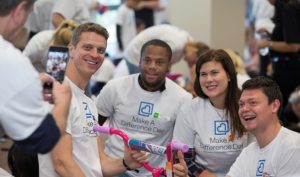 Maggie Leach, a Minnesota 12-year-old learned a big lesson when her family lived in a hotel for six months while their home was under construction. She discovered that many homeless families could not afford to do their laundry more than once a month. Laundry seems like something minimal, but to someone who must choose between food and doing laundry, it's a no-brainer, food will always win that contest. But it has its consequences. Not being able to do laundry, and having to wear odiferous clothes over and over, can greatly affect self-esteem and one's dignity. Maggie figured that out and decided to help by collecting laundry soap and quarters for families living in shelters. On last year's Made a Difference Day Maggie collected $810 in quarters (81 rolls), 21 baskets of laundry supplies and a pack of diapers. Her effort assisted numerous families living at Lewis House, a shelter for families fleeing domestic violence.
How Make a Difference Day started is really cool and all because of our crazy calendar. When Leap Day fell on a Saturday in 1992, Gannett's USA WEEKEND magazine suggested to their readers to spend their extra 24 hours doing something good for others. Pretty simple, right? Absolutely and the response was stupendous; it's been going on ever since. Then in late 2014 sponsorship of Make a Difference Day shifted to USA TODAY and Gannett's portfolio of newspapers, TV stations and digital properties. The following year, Gannett's broadcasting and digital businesses spun off to form TEGNA Inc. Lest you think this is just one more corporate spinoff, it's not. Tegna awards $140,000 annually to 14 honorees who are chosen by a panel of judges. Award winners designate their charity of choice to receive the grant money. Kinda a double-good, don't you think?
Starting a service project on your own is easy. Projects can be as simple as cleaning up your local park with your family and friends or hosting a lemonade stand and donating the proceeds to charity. The ask is simple – just do something good for somebody else. Submit your project in advance at the MDD website and you could win a $10,000 grant for your project's charity. If Make a Difference Day sounds like something you'd like to do, click here to find out more on  their website. Together we can all make a difference.