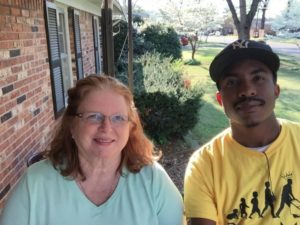 In the fall of 2015 Rodney Smith Jr., 26, of Huntsville, Alabama saw an elderly man trying to cut his lawn. Seeing the man struggle with the mower sparked an idea. Born and raised in Bermuda, he was taught a strong cultural philosophy. He lives by the phrase "To whom much is given, much is required". He stepped up and mowed the elderly man's lawn. A simple act, a charitable act, the start of so much more. That one small act of kindness spawned a tidal wave of giving back.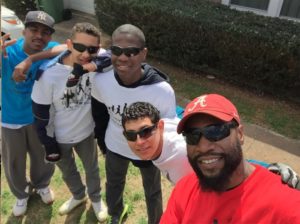 Smith decided that he would offer free lawn care services to the elderly, to the disabled and to single mothers who lacked the capability to keep up their own yards. Initially he used Facebook to get the word out, then people and local media in his town heard about what he was doing.  Take a peek at his Facebook page.
Rodney, far left, and co-founder Terrence Stroy, far right
His first goal was to mow 40 lawns before the winter season. By December he surpassed that number, so he upped the ante and assigned himself a bigger challenge to mow 100 lawns before winter arrived. A determined man, he did it in short order. Then Smith got to thinking larger.
Not long after he and his friend Terrence Story founded Raising Men Lawn Care Service with an unusual business plan. The service uses a team of 20 young men (ranging in age from 7 to 17) to maintain their neighbors' lawns, and keeping them looking neat and tidy on a biweekly basis. Here's the unusual part of the business plan: they do it for free. Yep, free. Instead of charging the people whose lawns they mowed he set up a GoFundMe page to sustain the business via donations.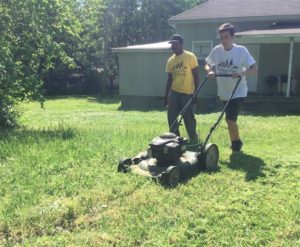 Smith, left, supervises a young team member learning to mow his first lawn.
Team members wear different colored shirts according to the number of lawns they've cut, like the belts martial arts practitioners wear indicating their level of skill.
Kinda remarkable, isn't he? A recent graduate of Alabama A&M University in Huntsville, AL, at age 16 Smith came to the United States. He speaks of the way of life in Bermuda, saying that the island lifestyle has been his inspiration behind Raising Men's purpose. On the small island nation, he says that most everyone knows one another and they help each other, that's what they do. He says it's a culture of aiding and supporting, of paying it forward.
It was with this ethic in mind that Smith put out a call to local mothers asking if they had sons who would join him in the Raising Men's endeavor, to help the new business give back to the community, to their neighbors. The mothers and the sons responded enthusiastically. What has become fundamental to Raising Men extends far beyond mowing lawns for free.  Smith points to the positive influence the little business is having on the young mowers. As Smith told the Today Show:
"They're young, but they say, 'It's cool to give back.' They see the faces of the single mothers, or the senior citizens when they finish the job and they know they've made a difference as part of a team," he said. "That makes them feel good, and I think it puts a good head on their shoulders."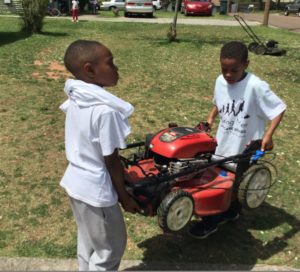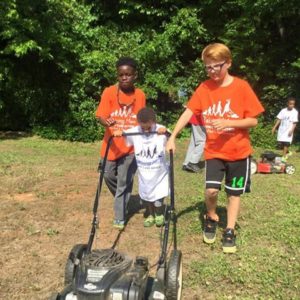 It's quite clear that Raising Men's mission is about more than doing for neighbors in need. It's also become about guiding and influencing the next generation of the community's young men and boys, of showing them how a simple act can do so much good and feel so good doing it.
Even the littlest men pitch in where needed.
Word spread and the story of how Raising Men is making a difference in their community caught the attention of Briggs & Stratton, a company well known for their lawn mowers. B & W took some bold, charitable steps. They not only provided them with brand new, state-of-the-art yard equipment, but they also paid off the team's GoFundMe fundraiser as part of the company's You.Powered campaign. As of this writing the GoFundMe page reports raising $56,116. So, is this a feel good story or what? If you'd like to see the Raising Men in action, visit their Facebook page and watch the video that Briggs & Stratton produced.