Have you seen one of the little free libraries that for a past few years have been sprouting up like spring flowers across the country? If not, they're an inspired testament to a son's love for his mother and generosity at its best.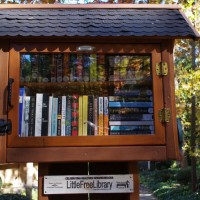 It all started in 2009 when a man named Todd Bol of Hudson, Wisconsin built a replica of a one room schoolhouse to honor his mother, a former schoolteacher and passionate reader. He placed it onto a post in his front yard, filled it with books and attached a sign that read "Free Books".  The little schoolhouse delighted his neighbors and friends. The positive response inspired him to build more little structures and give them away to people wanting to place them in their own front yards. His little project soon caught the attention of Rick Brooks at University of Wisconsin – Madison. They collaborated to begin building a project that would stretch from coast-to-coast and ultimately, world-wide.
By summer 2010, the project's mission was beginning to materialize. After mulling over many possible names eventually they settled on "Little Free Library". They tasked themselves with the following objective and they aimed high:
To build 2,510 little free libraries, as many as Andrew Carnegie's free public libraries at the turn of the 20th century (the beginning of public libraries we all use today in every city and town across the country.) Actually they hoped to surpass Mr. Carnegie's achievement and in so doing to promote a love of reading and literacy worldwide. If this sounds unfathomable, keep reading.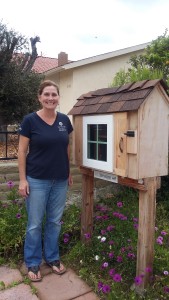 That same summer the first Little Free Library outside of Hudson went up on a bike path in Madison, WI. People took notice and began asking for little libraries. About that time the organizers had taken on an Amish carpenter, Henry Miller, of Cashton, Wisconsin to build the little libraries out of recycled wood salvaged from a 100-year-old barn destroyed in a tornado. They began to give away the little libraries with official charter numbers. This generated even more curiosity and interest, giving birth to a movement to build little free libraries around the country. Between a dedicated cadre of volunteers, a new website and word-of-mouth, they reached people who took it upon themselves to build their own little free libraries, people who have come to be known as "stewards", and who are understandably some of their biggest supporters. Alliances, informal partnerships and some small grants helped the little movement to keep up with demand from a public that thought this was an incredibly cool idea.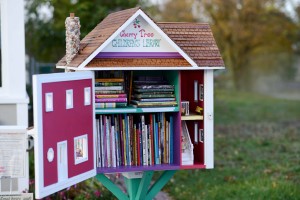 In 2012 they established the Little Free Library as a Wisconsin non-profit with a board of directors. A few months later the Internal Revenue Service granted them tax-exempt status as a 501 (c)(3).
The movement grew and it grew fast. In August of 2012, roughly three years after Todd Bol built that first little schoolhouse to honor his mother, the Little Free Library organization met their goal of building as many libraries as Andrew Carnegie (2,510) but, it didn't end there. As of January 2015 the total number of registered Little Free Libraries throughout the world was estimated at nearly 25,000. Impressive, huh? Not the end of the story. By January 2016, they added another 11,000 for a total of 36,000 Little Free Libraries.
If you were to visit the libraries in various communities you would see that they differ considerably by region and neighborhood. I'm pretty sure that the ones in Sweden look vastly different than those in India and the one in Key West, Florida. While the schoolhouse theme is popular so are log cabin designs; in New Orleans they have built structures out of Hurricane Katrina wood debris, some of which they decorate with Mardi Gras beads. Regardless of where a Little Free Library resides the checkout honor system presides; people get it.
I'm sure you're wondering, how does this work? I mean, what's to keep someone from stealing the books?  It's simple. You can't steal something that's free. The libraries do hope that people will honor the system of "take a book, return a book", and that's pretty much what has made it such a successful phenomenon.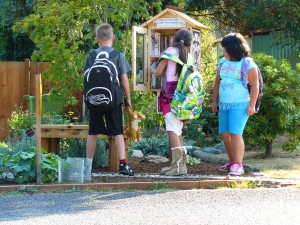 The other aspect that has endeared people to the project has been the camaraderie the little libraries have developed among its users. When a Little Free Library goes up in a front yard, along a walking or bike path, or in front of a market or school, people stop. They browse books, they meet neighbors they may never have spoken to before, they talk about great reads, and their neighborhoods, and life, and before you know it, the little libraries are inadvertently helping to build friendships and bring people together.  People also drop off books they want to donate to their neighborhood Little Free Library. Everybody gets involved in one way or another.
If you're interested in locating a Little Free Library in your community to visit, click here.  When I did a quick check in my neighborhood I found three that I didn't know were there!
Feeling inspired? Want to build your own? Instructions are here. Okay, so you're really excited about this, but you're not the DIY type and you don't mind the cost of purchasing a pre-made structure, you can order one here and have it installed.
I love books, always have. Finding a good read is as close to heaven as I'll get on this earth. That's why the Little Free Library concept spoke to me. Good books, building friendships and strengthening communities, it doesn't get any better than that. Seems to me that it's a perfect example of the goodness principle, don't you think?
Gotta go now. I have to check out those three Little Free Libraries in my neighborhood!