If the title of this post made you smile, it should, because it's about a very cool enterprise that is improving the lives of thousands of women.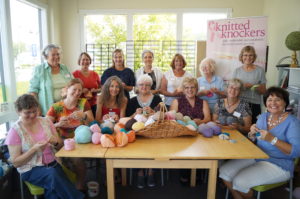 Women like Ruthie in Vancouver, Washington who underwent a double mastectomy for breast cancer in May 2014. Six weeks after her surgery she began seven weeks of radiation, followed by chemotherapy for one year. Yes, she lost her hair and eyelashes, as is typical with chemo, but it saved her life. Like most women who undergo a mastectomy she received a prescription for two prosthesis. While she was happy to have them she says she immediately noticed how heavy they were, and hot when she wore them. She accepted that would be the burden she would bear for getting a second chance at life. Then, a friend told her about Knitted Knockers. She went onto their website and found that they were available for free. That's when her life changed.
"The Knitted Knockers arrived fairly quickly," she says, "and they are a dream to wear. They are light and give a woman the curves that she should have. They're filled with yarn. I wear them inside my regular bra and my look is quite natural. It is pretty emotional when realizing that some woman made these for me." Ruthie says that she especially appreciates how the organization is helping countless women regain their feminine looks and giving them peace.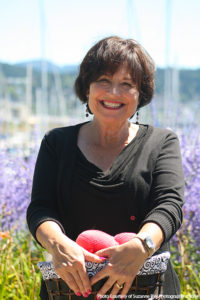 So who are these Knitted Knockers folks giving breast cancer survivors their dignity back? Barbara Demorest runs the organization. They have one function – to provide special, handmade breast prosthesis for women who have undergone mastectomies. Their mission is one near and dear to Barb's heart. In 2011 she was told the dreaded news that she had breast cancer and would have one of the 50,000 mastectomies performed every year. Like many who undergo a mastectomy she didn't know what to do, how to dress to look "normal" so she could return to work. When she learned that she couldn't put anything on her scar for six weeks post surgery, she cried for the first time. The following week at her doctor's office she perused a brochure for a silicone prosthesis. When her doctor walked in and saw her reading the brochure he told her that most women don't like them due to their heavy weight, expense and how hot they feel. Asking her if she knew how to knit, the good doctor showed her a photo of a "knitted knocker" and a website where she could get a pattern. Barb contacted a friend who was a knitter and asked her if she would make her one. The following Sunday her friend handed her a Victoria's Secret shopping bag; Barb raced into the church bathroom and put one in her bra. She remembers the moment well.
"It was fabulous! It was light, pretty, soft and fit my own bra perfectly. I knew right then that I wanted to make these available to other women going through the same situation."
Barb immediately sought out the young woman in Maine who had named them after making some for herself, to find out if she could use the name and share the knockers freely with others. The young woman was thrilled to pass the baton. From that seminal moment Knittedknockers.org was born. Barb began simultaneously reaching out to women who needed them and to knitters to make them. Her mission mushroomed. These days 130 groups in 49 states and nine countries are registered with Knitted Knockers,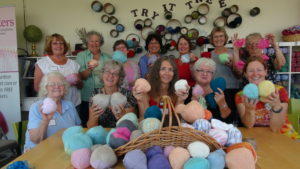 providing free Knitted Knockers to any woman who needs them. She isn't sure exactly how many have been distributed because they provide to the groups who in turn knits for their own communities, but figures it's around 20,000 Knitted Knockers to date. She does know that their pattern has been downloaded off the website over 100,000 times and that the videos have been viewed over 98,000, so probably more, a lot more. Each week Barb and her helpers meet in Bellingham, Washington to stuff, process and fill the week's orders that come in off of the website. As of this juncture they're sending out about 100 orders per week, though some weeks they've processed as many as 200 orders, and one week they processed 480.
No doubt you're wondering how do people who need them, and people who want to make them, find out about the organization. Barb works with many physicians across the country, providing brochures and sample knockers free of charge so they can do for their patients what her own good doctor did for her. As for the knitters? Well, they're like all good people everywhere. Once a few in the knitting community found out about it, word spread and it keeps spreading. Knocker Knitters continually register on their provider directory, happy to a breast cancer survivor and spread a little goodness.
Want to learn more about KnittedKnockers? Visit the website or you can watch this short video that ran on Business Insider. It's been viewed over 900,000 times.