Who doesn't harbor a secret fantasy of winning the lottery? It's not uncommon for people to dream what they would do with the money should they hit the 'big one'. A new car, a new house, travel, maybe a small tropical island. Anything is possible depending on the amount of the win.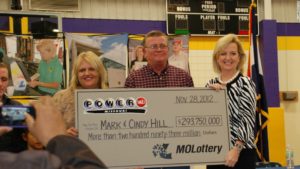 Back in late 2012 when Mark and Cindy Hill of Dearborn, Missouri won half of an astounding $587 million Powerball payout (netted to $136.5 million after taxes) they were simultaneously shocked and ecstatic. I mean, who wouldn't be?
When asked at a press conference held at the high school where they met how they planned to spend the money, Mark, a mechanic, said he was thinking about buying a red Camaro. Not a Jag, not a Lamborghini, a Camaro. That gives you an idea what kind of humble people the Hills are. Ultimately Mark bought a pickup truck.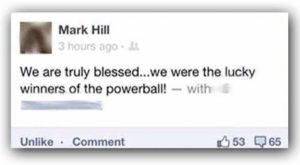 Cindy, a laid-off office manager had been looking for work. They had already adopted a little girl from China and with the influx of money were thinking of adopting another. They also planned to help family members, by paying for their four granddaughters, nieces and nephews college educations. Their other big plan was to take their little daughter to the beach because she had never seen one.
Not much has changed for the couple, except that Cindy gave up her job search and Mark retired. He still meets friends for coffee every morning at a local convenience store and they still live in the same home and keep up with all their usual activities. No fancy cars, no tropical island, no exotic cruises to places they can't pronounce. Instead they have slowly begun using their windfall to give back by funding civic projects in their local community, as well as in Mark's home town, Camden Point, Missouri, a small settlement of less than 500 residents.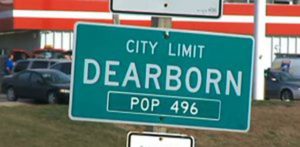 So far they've donated a scholarship fund to nearby North Platte High School in Dearborn, where both graduated, paid for a new ball field for children, safely built far from the dangers of traffic, and donated $50,000 towards the sewage treatment plant.
Who uses their lottery winnings to fund a sewage treatment plant? Good people with their priorities in the right place, that's who. The new sewage treatment plant will allow residents to remove their personal septic tanks. Ever had to deal with a personal septic tank? You know this is a biggie.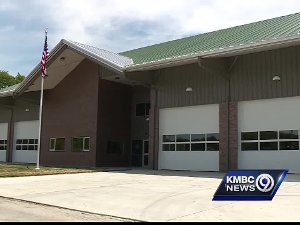 And then there's the fire station they funded in Camden Point, a gesture to thank local firefighters for twice saving the life of Mark's father. Mark took a vested interest in the new fire station by working with architects, contractors, and members of the local volunteer fire department to make sure they got everything just right.
The new station, built to be larger than needed so it could meet demands as the community grows in the decades to come will be dedicated mid-July. It's built from reinforced concrete to make sure it lasts for generations. In local reports city officials estimate that these projects would have taken around 25 years to complete had the city needed to rely on its existing tax base.
Often big money, like a lottery win, changes people. It's gratifying to hear of a case where it didn't, where people stuck to their values. At the press conference that announced their huge windfall, Cindy Hill explained their plans in the humblest way she knew how. "For some reason (God) put it in our hands," she said, "I think to make sure it goes to the right things."
If it were up to Mark, he would have kept the fire station a secret. He told a local news station, "If my wife and I could have built this without anybody knowing, that's exactly what we would have done." He doesn't want people making a big deal over the gift because it's simply their way of giving back to their neighbors, to their community.
Now if these folks aren't the epitome of The Goodness Principle, I don't know what is.