Lee Fulbright suffered a double whammy in 2012. She lost both her husband and her sister in one year. For a long, dark time it took everything she had to get up each day and simply live. It was just her and Baby Rae, her 13 year old cattle dog.
The following year, as she slowly adjusted to a new life she read an article in a small newspaper about a local San Diego physical therapist, Trish Penick, who specialized in physical therapy for dogs. Trish used water therapy to help dogs recover from surgery and stroke paralysis. The swimming pool therapy also provided pain relief to dogs suffering from arthritis whose joints throbbed when they walked on cement or trails. She read how once in the pool those pups were soothed by warm water as they played, weightless in the water; all while getting much-needed exercise. Reading further Lee learned that Trish was losing access to a donated private pool and was looking for another centrally located San Diego pool as soon as possible. Lee vividly remembers the thoughts that raced through her head.
"I was reading this and thinking, I love dogs and I have a pool. I'm in the city, on Point Loma. And it's just me and Baby Rae now–those babies can yip and play and get worked on all they want– I've no problem with dog "singing." I have a pool with two shallow areas for hands-on procedures, with a decent-sized length in-between for laps."
She quickly realized that her pool could work. She contacted Trish and invited her to take a look. It turned out that Trish lived just blocks away. Trish and her yellow lab, Tori, came right over. As Lee likes to say, the rest is history. Two plus years later worth of history. Lee says that some weeks she has counted as many as forty dogs in the pool. Dogs whose hind ends have given out, who've had strokes, who've recently had knee or hip surgeries, or any kind of surgery really, who're recovering from car accident injuries, who are overweight or whose human parents can't exercise them for one reason or another, or are debilitated rescue dogs and need to be built back up so they can be adopted out. Good story, right? Oh, but it gets better. Here's where the silver lining of this story emerges.
The Southern California German Shepherd Rescue has been one of Trish's charities; she has taken on some of their most hopeless-seeming cases pro bono, Romeo was one of them. Lee recalls the day she met with him with precision clarity.
"He was approximately 10-11years old, a HUGE German shepherd with an un-German shepherd, bear-like head, hair sticking straight out all around, like a halo," Lee says. "He was funny-looking, oh, but such intelligence in those brown eyes. A very tall dog, but completely emaciated, with a thin, dry coat, and sores all over any visible skin."
Romeo couldn't walk on his own; his back legs were paralyzed. He was found in some bushes and taken to Southern California German Shepherd Rescue, who cleaned him up, and got a medical done on him. His hips were deemed "gone"; he needed surgery, but at 30 pounds underweight, he was too debilitated to undergo, much less survive surgery. The veterinarian treated his sores, recommended a special protein diet to put weight on his emaciated frame and physical therapy to rebuild and strengthen muscle. Sounds pretty grim, huh? Seeing him was worse.
"I about died when I first laid eyes on him. He was so, so thin and dependent. His angel of a foster mom managed him with the aid of special rear-end harness that allowed him to move his front legs while she held up his hind end. The second thing, after his shocking condition, that set Romeo apart was his personality. Sweetest, gentlest dog ever. And the most vocal. But he didn't bark, he "talked." Almost constantly. He talked even while swimming (Romeo learned to swim in about ten minutes). He loved the warm water. He talked and talked and talked. Eventually, he did wheelies. He fetched toys. He did laps. He stretched those front limbs and paddled like crazy, and he was beautiful–and before we knew it– this was about three sessions out– his back limbs fluttered. And he talked some more. Long story short, because Romeo's rehab was not an immediate thing– it took a few months– Romeo was ready for his first surgery (a very expensive surgery paid for by German Shepherd Rescue)."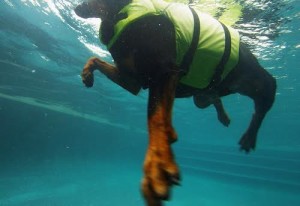 Lee says that the surgery was successful, relieving Romeo of pain on dry land, giving him some mobility on the ground, under his own steam. Who could not love a dog like that? His foster mom officially adopted him, and for more than a year he lived the good life, sheltered and pampered, swimming in Lee's pool for exercise, and, she says, always talking. He was lucky. Instead of dying behind some bush on the side of the road, Romeo died of natural causes in his sleep, loved and pain-free. Lee will never forget him.
"I still get teary-eyed thinking of him. All he'd been through, and yet he never lost his amazingly beautiful spirit. In many ways, because of the journey I'd been on, of recovery from care-giving and loss, it was Romeo who first made my heart soar again. Because he was majestic. And he was magic. And he'd been down, but was starting over, getting a new life, and it seemed he understood he'd been given another chance. I'd watch him and think anything was possible, because the impossible–his healing– was happening right in front of us."
The very same can be said for Lee Fulbright. From a dark place full of grief, through the selfless, simple act of providing her pool for canine physical therapy, she found healing and a renewed spirit.
To learn more about Trish's work at Cutting Edge K-9 Rehab, please visit her website http://www.cuttingedgek9.com/about/about.php