Chris Meyer is not having a good night. Tossing and turning, reliving nightmarish flashes, sometimes even uncomfortable night sweats—all a part of the PTSD which accompanies so many returning service men and women. If left unchecked, an alarming number fall into a depression which, tragically, ends for far too many in suicide.
But Chris is fortunate. Not only is he receiving good medical attention, but he has the constant attention of Jade, his partner, confidant, and safe to say, his love. When Chris is having another debilitating nightmare, Jade is right there to wake him from his torture, to assure him everything is all right and he is safe.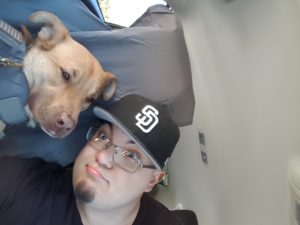 You may be wondering what would be the best way to wake a PTSD suffering person without compounding their fright. Jade has perfected the process—first she nudges Chris a few times with her nose, then her long tongue starts bathing his face. Chris wakes up quickly; the terror abated.
You see, Jade is a service dog—a loving Golden Retriever/Shepherd mix, who was painstakingly trained by Graham Bloem, founder of Shelter to Soldier. But providing care-giving dogs to veterans is only part of the Shelter to Soldier story.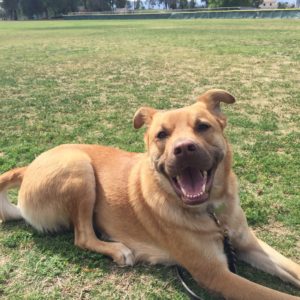 Graham scours the many local shelters looking for 40 – 50 pound dogs who he can determine have the temperament and intelligence to respond to training as a service dog.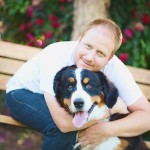 After checking them for optimal health and getting a head x-ray, many of the dogs he tests don't make the cut. Many of those who do test well were precariously existing on the euthanasia list because no one wanted to adopt them. Graham then saves them and begins their training.
You may rightly say that this process saves two lives at once: the dog's and the veteran's. Win-win! But there's more to the story.
This isn't one of those places that just finds a dog, then a veteran, and says "Here you go!" No, Shelter to Soldier spends several thousand dollars per dog for medical care and housing during the 12 to 18 months it takes to thoroughly train them as service dogs.
The veterans go through a careful screening process as well, starting with a doctor's recommendation to the initial telephone interviews. Then the veteran visits the training facility to see how they interact with dogs—and vice versa. When Graham makes a suitable match, he trains the dog to be sensitive to those issues which plague the veteran.
According to 1st Sgt. Tomas Mondares, his dog Sandy (a female Shepherd/Labrador mix), senses when he gets anxious from seeing shadows after dark. Sometimes he gets easily irritated. That's when she will side up next to him, 'herding' him away from the stimulus and de-escalating the situation. It's like a friend reminding him that "it's OK Tomas —just chill".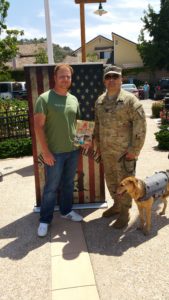 But the training isn't just for the dogs. No, Graham requires that the veteran actively participate in the training a couple of times a week over a period of months. That way the veteran becomes certified as a dog handler, and the dog intuitively learns about the needs of the veteran. At the end of training there is a graduation ceremony for each veteran and dog, concluding with certificates of completion and competency.
For Chris Meyer, knowing that Jade senses when he is in dire need, and has been taught to push a button to administer medication provides great peace of mind. For Tomas Mondares, who received severe injuries to his back and hip during a deployment, having Sandy help him get up when he can't on his own is crucial.
Graham served a stint in a pet nutrition store, and then as a dog trainer at a large animal shelter. That's when he discovered his innate talent for connecting with dogs and training them to be caregivers, and Shelter to Soldier began as a non-profit 2012. To date they have placed nine dogs with veterans, with eight more dogs now in training.
According to Graham's wife, Kyrie, who takes care of the operating details of the organization, their objective is to train 20 dogs at a time. Clearly there's a huge need; in fact there's so many veterans in need of service dogs that they can't keep up. Until they can get into a larger facility they can't reach that twenty-in-training goal.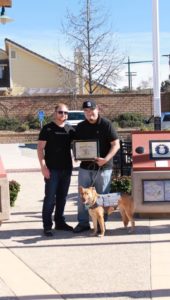 Shelter to Soldier calls San Diego County home, where 1.2 million active duty, veterans and families of veterans live. Of the active and veteran ranks, a vast number suffer from PTSD (Post Traumatic Stress Syndrome) and TBI (Traumatic Brain Injury) due to their time in combat zones. Shelter to Soldier does not to treat the veterans—that's left to the medical institutions. Graham's approach focuses on preparing the dogs to perform care-giving functions that aid each veteran. He understands that dogs are non-judgmental and give unconditional love; the perfect candidates for the job.
After each dog has been trained and goes home with the veteran, the veteran can call Graham anytime with questions and give him an update on how they're doing. Shelter to Soldier holds events and get-togethers for the veterans and dogs, as well as refresher courses and further training anytime a need arises.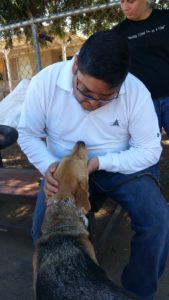 Does it work? Before he entered the program Tomas Mondares felt he was in a dark place, and just wanted to stay shut in by himself. Now with Sandy he feels so much better that they go out more often, enjoying life together. In fact, he claims that without Graham and Sandy, he would be in a much darker place—or maybe not here at all.
Chris Meyer looked into getting  a service dog from five other programs before settling on Shelter to Soldier. He found StS to be the only one that completely vetted each veteran and each dog's capabilities to provide the best possible fit. As Chris continues in his rehabilitation, he says he wants to give back to Graham and do some volunteer work with the organization.
How did Graham Bloem decide on this path? Is he a veteran? Is he from a military family? Neither. He was born in South Africa, and immigrated to the US through Canada, later becoming a US citizen. He has never been in the military. He did, however, come to realize that he was really good at training dogs. With all the current and former military in the county having needs, his destiny was obvious.
Graham also runs West Coast K9, a professional dog training business to pay some bills, but the non-profit Shelter to Soldier operation is a labor of love and charity. The challenge to the Board of Directors is how to expand the operation to train more dogs, necessitating a larger facility.
Saving dogs, helping veterans, by someone who immigrated here—how's that for goodness personified?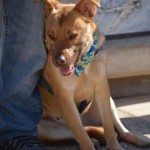 Tomas says that "family" is defined by love, not necessarily by blood. Using that criteria, then it is safe to say that Sandy is definitely family to Tomas, as Jade is to Chris. The unconditional love these family members give to their human counterparts is their own Goodness Principle.
You can learn more about Shelter to Soldier here.