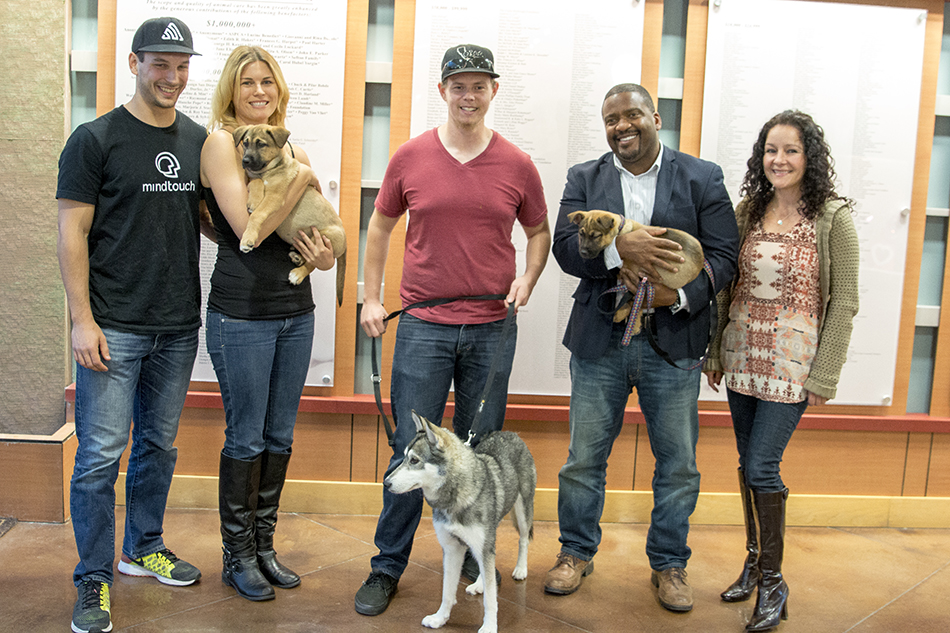 An 11-month-old Siberian Husky named Kiera and her two puppies suffered unfathomable cruelty that no animal should endure. It was remarkable that she was found on the brink of death and even more remarkable that she survived. Clearly she possessed a powerful will to live.
Local police in Oceanside, California found Kiera in a backyard, tethered to a steel ladder by a bike lock cable with less than 12" slack. She had no access to shelter, to food or to water. Furthermore someone had tightly bound her muzzle with duct tape for who knows how long, preventing her from eating, drinking or attending to her two 12-week old puppies. When found she was underweight and her fur severely matted. Law enforcement found her puppies confined to a garage, dehydrated, but otherwise in good condition.
Steve MacKinnon, Chief of Humane Law Enforcement for the San Diego Humane Society said that the condition of the duct tape, and her emaciated frame, suggested that she had been suffering for a long time. They could not figure out how she survived as long as she did, or how she was able to care for her puppies. What kind of monster does that to innocent animals?
After a thorough investigation, the law enforcement division determined that the cruelty was committed by people living in the household, but there was not enough evidence to establish who actually committed the acts of cruelty. All residents in the house had some level of knowledge of the cruelty, and everyone failed to act to protect Kiera. Without substantial evidence they could not press cruelty charges. Damn. Those people deserved to have the book thrown at them! Had the Oceanside Police Department not contacted the Humane Society Law Enforcement division when they did Kiera would likely not have survived.
Upon arrival at their facilities San Diego Humane Society veterinarians conducted thorough medical exams on Kiera and her puppies. Over the following weeks, given proper nutrition and a safe, warm place to recuperate, Kiera and her pups recovered to the point of being cleared to find their furrever homes. And find those homes they did.
All three dogs went home with their new families on January 26th.  Eric Vanaselja adopted Kiera and he says that she has been a great addition to the family.
"She lives with my grandfather and I," he says, "and though she's still a puppy at heart and can be a handful, she listens and follows directions very well. She gets a lot of love from both friends and strangers. It's hard to resist that face of hers, and she receives it well–she loves the attention, no matter who it is." He adds that when he first took her home she was very malnourished, thin, and shedding heavily. "Since then, the shedding has slowed a lot, and she's back up to a healthy weight. Overall she seems to be a happy pup!" Absolutely remarkable for a dog abused as she was who stood at death's door.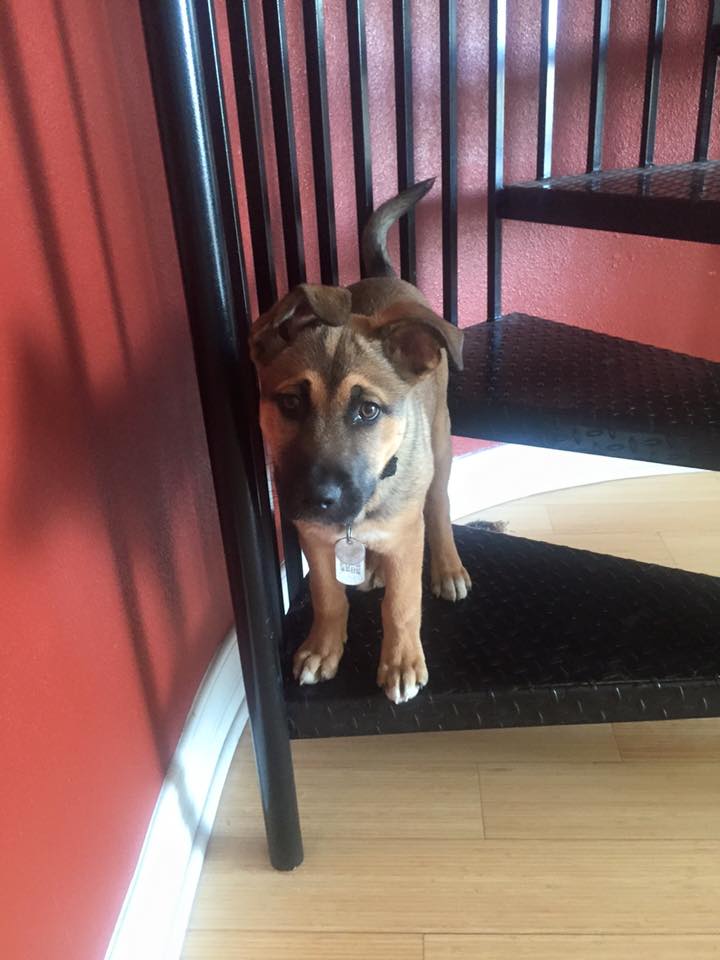 Shannon Gearing and her boyfriend, Yuri, adopted the puppy Johnny, who they renamed Brewski. She says he's completely healthy now. He had a kennel cough and a bad stomach when they adopted him, but medication cleared up those issues. He's been fully vaccinated and is growing fast, recently weighing in at 25.4 lbs at 19 weeks old.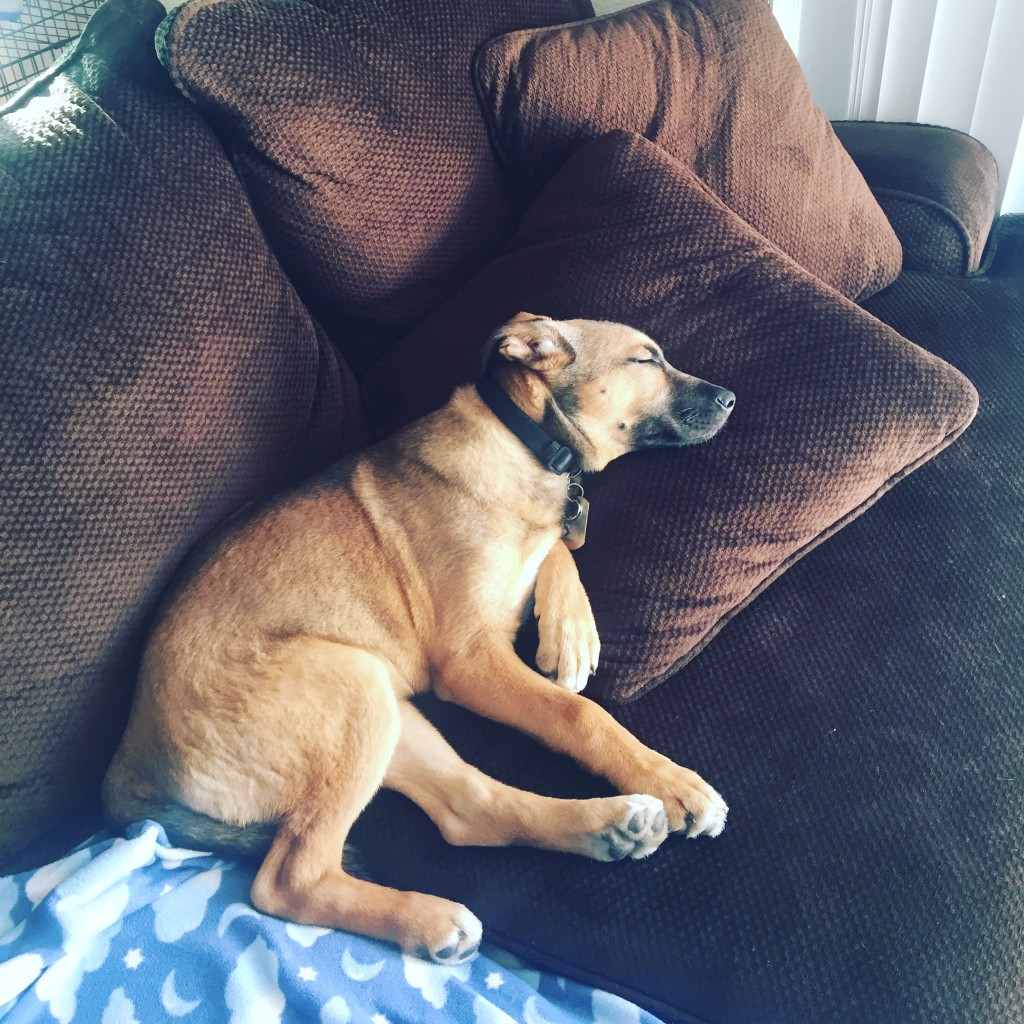 "He's very sweet and social and always wants to stop to say hi to people and other dogs," she says. "Fear is not really in this guy's personality." Considering the horror this puppy experienced in the first three months of his life it's really incredible that fear has not marred him. At the time of this writing Brewski was returning to the Humane Society to begin puppy training.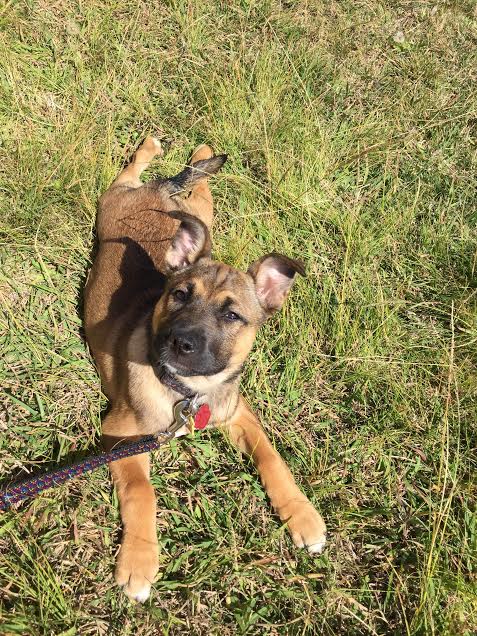 Brewski's sister, June, was adopted by a gentleman named Maurice Wrighten, who renamed her Junebug. Cute, huh? Love that name.  She has gained about eight pounds and is undergoing puppy training. Maurice says Junebug is making lots of friends at the park near his house. "She loves the water at the beach but is not crazy about the waves yet." Ah, Maurice, give her some time. She will be a surfing dog yet. The bug interacts with his 12-year-old daughter Gabriella, his close friends Lily, Dannie and his neighbors. He says that she plays with lots of kids, and  judging from the photo of Junebug, that's not hard to imagine. Junebug obviously found a great home and great dad.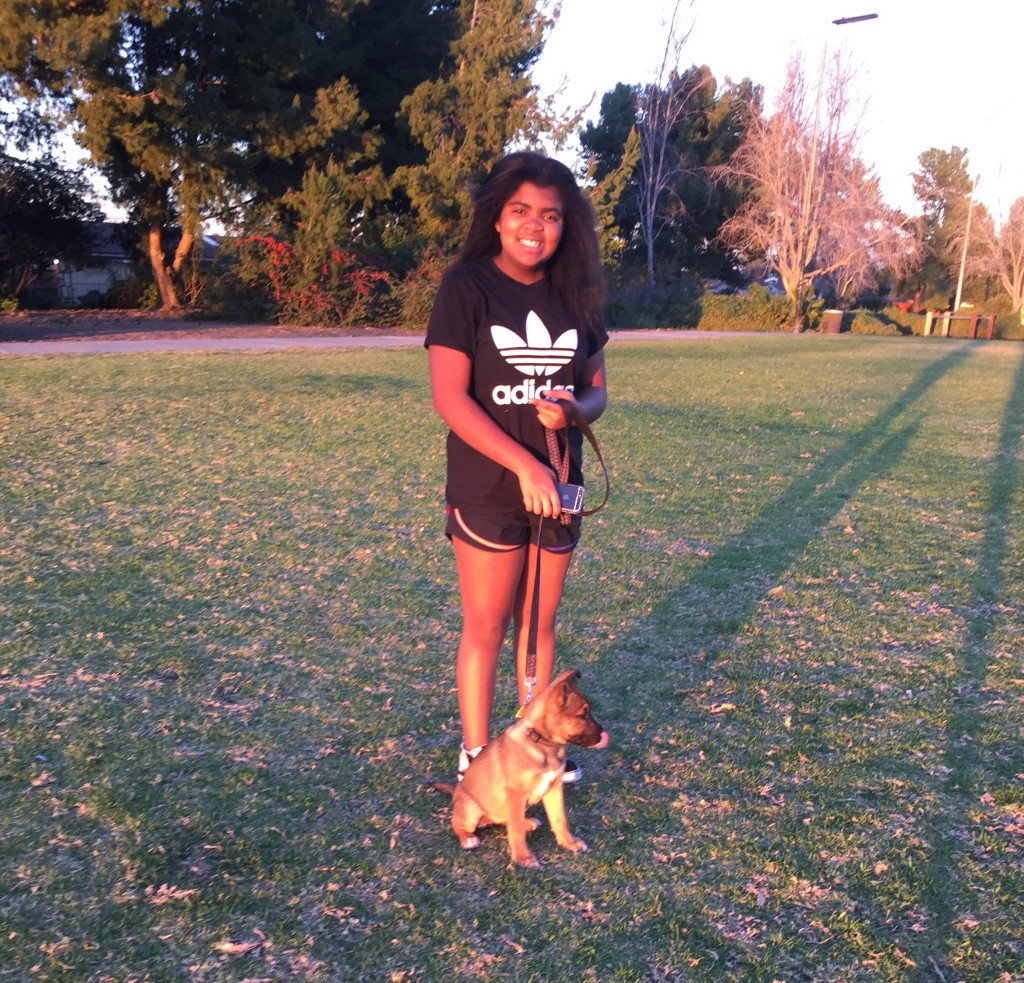 Animal cruelty stories are tough to write and equally tough to read. But once in a great while they have a happy ending like the one that these sweet dogs found. Thank goodness for the Oceanside police officers who rescued these innocent dogs and the San Diego Humane Society who cared for them and found them new homes with kind, loving pet parents, Eric, Shannon and Maurice. Talk about finding a furrever home and a happily ever after. I love stories like this!